9. ODD Tests
ASUS A6JA - Page 9
- Storage Tests: Optical Disc Drive
The Matsushita UJ-841S supports 8X writing (DVD±R), 4X re-writing (DVD±RW), 2.0/2.4X writing (DVD±R9) and 5X DVD-RAM writing. With CD media, 24X writing and 10X re-writing are typical for slim-line recorders.
Using Nero Info Tool, we can get more information about the firmware and special features: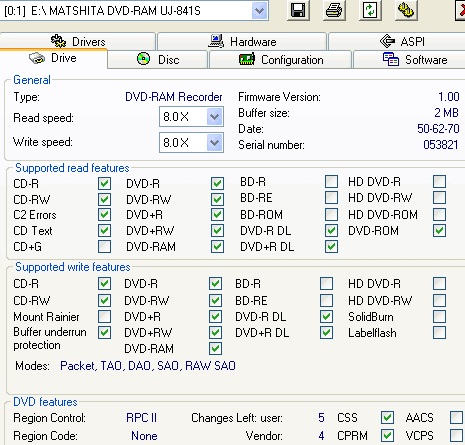 To see the drive's writing performance, I ran the latest Nero CD-DVD Speed and by using the built-in "Create Disc" function, I noticed the 4 zone-CLV writing strategy which reached 8X. It will take around 12.30mins to burn a full 4.7GB DVD±R disc.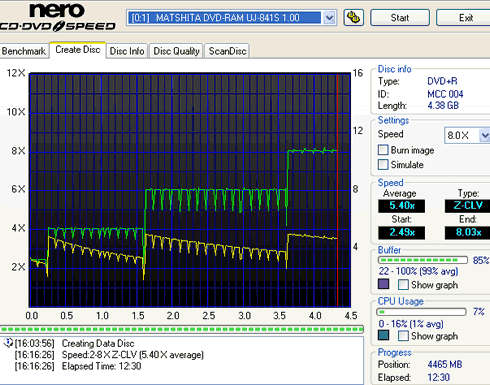 After writing, I used the same disc to perform a reading test, this time we get a full 8X CAV reading graph:
How was the writing quality of the burned disc? Considering that I used Verbatim's 16X DVD+R media, I expected almost perfect results. The Plextor PX-716A with the latest Plextools XL Pro is used to perform a series of tests, such as full 12X CAV reading graph: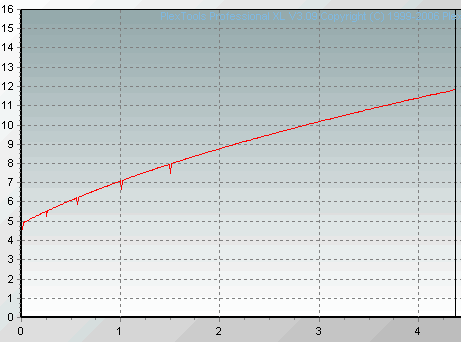 In the PI/PO graph, you can see the increased PI errors as the drive shifts to 6X and 8X at the end:
And finally, the PIF score:
The burned disc was within DVD-Forum writing quality specs. Remember, that this is probably the best result you will get. Using medium to low quality media will probably lead to worse results. After checking around the net, I saw many complaints from users, that their media was not recognized or burns had poor quality. Unfortunately, Matsushita doesn't offer a generic firmware update, so you have to rely on your vendor (in our case ASUS) for future firmware upgrades. To date, there hasn't been a firmware update, despite the fact that similar notebooks from Sony are offered with 1.11 firmware revision.