4. HDD - Monitor
ASUS A6JA - Page 4
- HDD
The Fujitsu 100GB 4200rpm HDD, is split in two partitions (drives C and D) with (55GB/36GB) using the FAT32 file system. There is a batch file that allows you to convert both partitions to NTFS, which is suggested for higher security and better performance. There is a hidden FAT32 partition that includes the Windows XP Home SP2 installation, in case of an emergency recovery. This is not however, very convenient since it takes space and you don't have a retail Windows XP CD for a clean installation:

The Fujitsu HDD, doesn't support Native Command Queuing, but has low operating noise: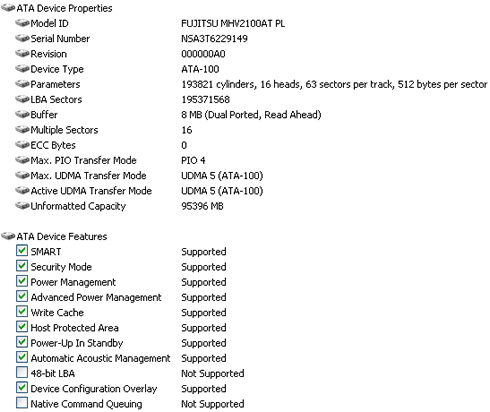 - TFT Monitor
The TFT monitor comes from AU Optronics with the following specs:
After checking the AU Optronics web site, I was able to get more information on the type of technology used and response times:
| | |
| --- | --- |
| Resolution (pixel) | WXGA (1280 x 800) |
| Aspect Ratio | 16 : 10 |
| Active Area (mm) | 331.2 x 207.0 |
| Pixel Pitch (mm) | 0.259 |
| Mode | TN |
| Number of Colors | 262K |
| Color Saturation (NTSC%) | 50 |
| View Angle (H/V) | 80 / 40 |
| Brightness (cd/m²) (5 points average) | 180 |
| Contrast Ratio | 300 : 1 |
| Response Time (ms) (at 25°C) | 16 |
| Power Consumption (W) | 6.5 |
| Interface | 1ch LVDS |
| Supply Voltage (V) | 3.3 |
| Backlight | 1 CCFL |
| Outline Dimensions (mm) | 344.0 x 222.0 x 6.2 |
| Weight (g) | 575 |
TN technology offers low response times but reduced Number of colors (262K). This means other colors are displayed with interpolation, which leads to not true colors. If you are planning to work with Photoshop or similar graphics related programs, another notebook would be more appropriate for you.
Our screen didn't have any broken/stuck pixels as several monitor tests confirmed. The reflective nature of the screen may be a problem in cases where you work with dark or black backgrounds or in very bright conditions such as outdoors in the daylight. Of course this is the price you pay for more natural and brighter colours. ASUS unfortunately doesn't offer an option of a non-glossy screen.
At night, in a totally dark environment with a| black background, I was able to see any potential backlight leakage, a common notebook screen problem. The ASUS A6JA has a small amount of backlight leakage at the edges, which didn't enthuse me, but it is very common.