11. Final Words
ASUS A6JA - Page 11
- Conclusion

After spending so many days benchmarking the ASUS A6JA, I can say that I am pleased with its performance. The Intel Core Duo, even if it only runs at 1.66Ghz, is quite powerful and won't let you down, even in the most demanding tasks. ATI's x1600 chipset powers the A6JA's graphics and it's a wise choice, with 256MB embedded RAM, while its real life gaming performance is more than satisfactory. Storage (HDD/DVDRW) are not the best you can find, but will cover your basic needs.
Heat concerns many notebook users, and rightly so. You will not be able to place the A6JA on your lap, since the base gets hot. The 15.4" glossy screen offers all the benefits and side effects of such screen, with no dead pixels and a small amount of backlight leakage around the screen. ASUS offers both D-Sub15 and DVI outputs, which are not found easily on notebooks.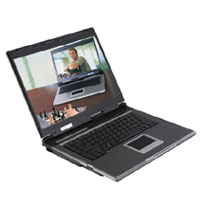 Other features like the 1.3Megapixel web cam, built-in speakers should be thought of as basic features. Professional users will probably want to change the built-in HDD (Fujitsu 100GB 4200rpm) with something faster to get a performance boost.
The retail price of the ASUS A6JA can be found in the range of €1300~1600, depending on your country and local VAT. If you are looking for an affordable notebook, with good build quality, many features and good performance in most tasks, then don't look further. ASUS has something for you :-)
- The Positive
Very good build quality
Intel Core Duo and ATI x1600 offer very good performance
15.4" TFT screen has no dead pixels
Full size keyboard
VGA and DVI output are offered
2 years warranty
Low noise
Many inputs/outputs (PCMCIA, Firewire, S-Video, 56k Modem, GBit Lan)
1.3MP web cam, WiFi (54g) and Bluetooth v2.0
No spyware/trialware software installed
Carrying bag and optical mouse included
ASUS' PowerGear offers power management
Drivers CD included
- The Negative
Laptop gets hot underneath
TFT screen uses TN technology resulting in reduced colour clarity
Battery will last only 1.40h if you are using laptop at full speed
USB2.0 ports are placed at rear (inconvenient)
No IrDA port
Weight could be an issue if you are looking for a road warrior notebook
Built-in HDD is only 4200rpm, resulting in low performance
Built-in DVDRW drive has no firmware upgrades (!)
ASUS hasn't included a retail CD of Windows XP Home