10. Battery - Noise Tests
ASUS A6JA - Page 10
- Battery Tests
In order to test the battery performance, I used a freeware utility called "Battery Eater Pro". This utility can perform a series of CPU load, GPU rendering and HDD activities to simulate scenarios. Two modes were tested as defined by ASUS Power4Gear, "Super Performance" and "Battery Saving", with screensave disabled. The reported times are probably the worst times you will get, since reducing brightness leads to better battery times.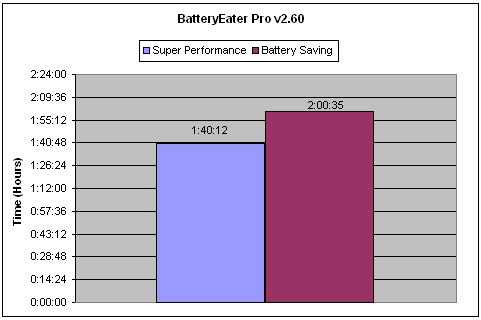 When the CPU runs at full speed, the best scenario gives 1.40 hours of autonomy, which is not very good. In the case of several power save modes (like CPU dropping speed), you will gain 20 more minutes. Again, not satisfactory. I don't know if the 8 cell battery pack that ASUS offers can increase battery autonomy or not.
- Heat and Noise
The ASUS A6JA gets quite hot when in operation. At the start, the CPU/HDD temperatures are quite low (58°C/38°C), but during normal operation it climbs higher (as reported by the notebook's sensors):
The "worst" values I saw, when using "Super Performance" mode, were high:

The fan doesn't kick-in at all times to cool down the CPU/GPU, so in general, the A6JA is noiseless. Of course, when things get hot, you will hear the fan rotating, but only for few seconds. Again, it depends on CPU/GPU use. In general, we can say that the A6JA produces little noise during its operation.