Zidoo X6 Pro Media Player review
5. Final words
The Zidoo X6 Pro is the "flagship" Android player from from Zidoo and as such, it has impressive specifications and comes packed with many features. The device is based on the RockChip 3368 chipset and retails for as much as $109, which is considered a rather high price.
The player is well-designed, featuring rounded corners and a durable plastic outshell. Being passively cooled, it is compact in size and can easily fit in your living room.
The X6 Pro has an HDMI 2.0 output, it really supports playback of up to 4K @ 60hz AVC/HEVC video and 7.1 audio passthrough. The device successfully playbacked almost all the video files we tested, plus 7.2 Dolby Digital and DTS sound files, with both stock and ZDMC (KODI) video players.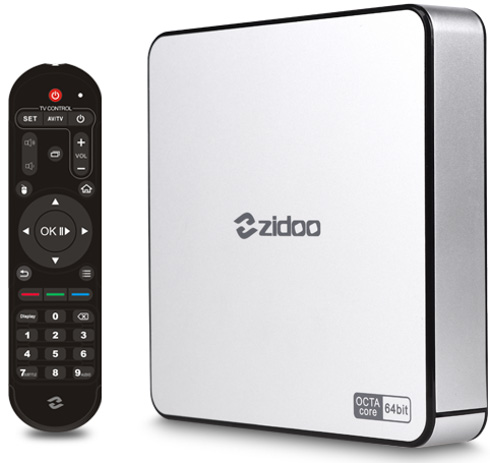 The popular H.264 files were playbacked perfectly. But you should have in mind that the player should not be encoded higher than 100MBps. In that case, the X6 Pro will display an error message or you simply won't get any video displayed on your TV.
The player had no issues with H.265 video files either, but not with 10bit HEVC files. There is nothing you can do about that, since that's a limitation of the RockChip 3368 chip.
The stock video player supports almost all the video files and can even handle even demanding multi-lingual SRT subtitles very well. The included ZDMC (KODI 16.0) also performed avery well in most tasks, and supports your favorite add-ons like the regular KODI.
We also liked the Zidoo interface/ ZIUI and especially the included Explorer app. The player can be controlled from your smartphone using the Zidoo RC app and if you prefer the included remote control, it could be customized (Zidoo Smart IR Remote app) to offer quick access to installed apps.
We liked
2GB RAM and 16GB Internal storage
1Gbit LAN
Supports HDMI2.0, up to 4K @ 60Hz & HDMI-CEC function
7 channel audio pass-through, and H.265 / 4K hardware decoding
Wifi 802.11ac support & Bluetooth 4.0 connecting protocols
Android 5.1.1 Lollipop
Includes 2x USB2.0 devices and a microSDHC/SDXC slot
DTS/Dolby Digital output and Greek Subitles support even from stock video player
Included ZDMC (KODI) works very well
Great stock file manager with external microSD/USB writing support
Supports Auto frame rate output function (24Hz) with both the stock and ZDMC (KODI) video players
High quality with 2K, 4K, HD content
Support for FAT32, NTFS, EXT-4, and exFAT file systems
OTA firmware update
Great power control over software (auto off)
Frequent firmware updates
We didn't like
Doesn't support 10bit H265 (HEVC) files (Rockchip 3368 chipset cannot handle it)
Media files with higher bitrates than 100Mbps are not playable
No USB3.0 port(s)

Stock player doesn't support DVD/Blu-Ray ISO playback (you can use the included ZDMC instead)
No "fake" Wifi option under settings - needed for some apps to work when LAN is being used