Nvidia Geforce GTX 1080 review
1. Meet the Nvidia Geforce GTX 1080
Nvidia has recently unveiled their latest high-end graphics cards for gamers, called the GeForce GTX 1080 and GTX 1070. The company' s CEO Jen-Hsun Huang made claims of big performance gains and new-found levels of efficiency at attainable price points for the masses. With today's official launch of these new graphics cards based on Nvidia's new Pascal architecture, the GeForce GTX 1080 promises to deliver the goods on all fronts in performance and value, at an impressive performance-per-watt metrics. This is in-part due to Nvidia's move to a 16nm FinFET manufacturing process with fab partner TSMC.
The GP104 GPU under the hood of Nvidia's new GeForce GTX 1080 is comprised of some 7.2 billion transistors and has a die size measuring 314mm2. The company's previous generation Maxwell architecture-based GeForce GTX 980 has a GPU die that measures 398mm2 and is made up of roughly 5.2 billion transistors. That equates to 2 billion more transistors in about 20 percent less die area for the new GeForce GTX 1080 Pascal-based GPU.
Nvidia also redesigned key ares of the architecture, like the memory IO structure, including taking advantage of Micron's latest GDDR5X memory technology, enabling 320GB/sec of bandwidth versus the previous generation GTX 980 at 224GB/sec. Nvidia also implemented new color compression algorithms to decrease memory and cache utilization and introduced asynchronous compute support in addition to a new compute technique call "premption" that allows the GPU to render workloads in a more parallelized manner, for better efficiency. These features also afford the architecture lower latency and faster rendering in VR applications, especially when combined with new features like Nvidia's Simultaneous Multi-Projection technology that can perform image aspect correction in a single pass in VR apps, without having to do double the geometry work like previous-generation architectures.
Here are the specifications of the new GTX 1080, as well as the two other Nvidia graphics cards we have added in the performance comparison charts of this brief review -- the GeForce GTX 980 and the overclocked Zotac GeForce GTX 980 Ti:
GeForce GTX 1080

GeForce GTX 980

ZOTAC GeForce GTX 980 Ti AMP! Extreme

Architecture

Pascal (GP104)

Maxwell (GM204)

Maxwell (GM200)

Manufacturing process

28nm

GPU clock (maximum)
Cuda cores
Texture units

160

128

176

Memory

4GB GDDR5

6GB GDDR5

Memory Clock
Memory Interface

256bit

256bit

384bit

ROP units

64

64

96

Board Power

165W

250W
The new GeForce GTX 1080 will retail for $699 in the Founder's Edition model that was tested; $599 for standard edition models.
The GTX 1080 maintains the look and feel of the reference cards going back as far as the GeForce GTX 780, although the new card features a silver heatsink. Measuring 10.5in long and fitting into the dual-slot form factor, the reference card is now called the Founders Edition (FE).
The 180W card is kept cool using a heatsink-and-fan unit. Nvidia outfits its own card with a single 8-pin power connector, moving away from the dual six pins on the similar-wattage GTX 980.
A look at the back shows that Nvidia hasn't changed the outputs in the move from GTX 980 to GTX 1080. Dual-link DVI, for legacy reasons, sits on top of a trio of DisplayPort and a single HDMI 2.0b.
The DisplayPort is 1.2 certified and spec 1.3/1.4-ready, which means supporting 4K screens at 120Hz or 5K at 60Hz from a single cable. Looking forwards, 8K at 60Hz is supported by using two cables. Four displays can be driven at once, as well.
Starting with the GeForce GTX 1080, Nvidia is discontinuing official support for 3-way and 4-way multi-GPU SLI setups, rolling out rigid new high-bandwidth bridges that limit SLI configurations to just two graphics cards.
The new SLI HB connectors, which work only with Nvidia's new Pascal GPU-based graphics cards, occupy both SLI connectors on a GeForce graphics card in order to transfer data between them at 650MHz, compared to the 400MHz that traditional SLI bridges run at. This allows dual GPUs to deliver a smoother gaming experience at 4K-plus resolutions and on multi-monitor Nvidia Surround setups, according to Nvidia. That of course means there's no room to extend SLI configurations to more than two GeForce cards now.
However, you can still use a 3-way setup with two GTX 1080s in SLI and a third dedicated to PhysX alone. Nvidia also says that developers can manually support 3- and 4-way graphics card setups using DirectX 12's multi-display adapter and explicit linked display adapter modes.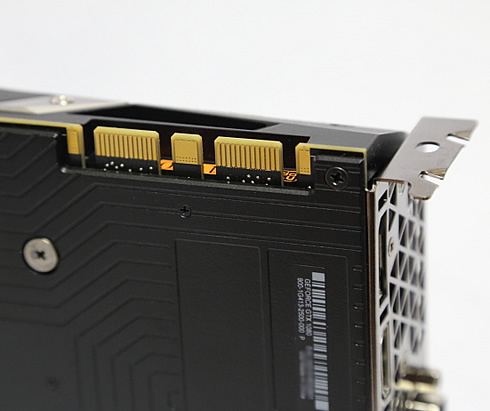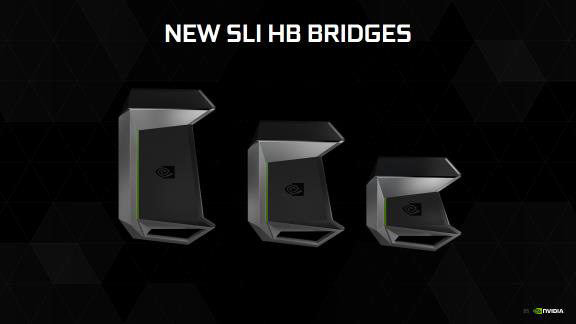 We tested the Nvidia GTX 1080 using the following PC setup:
CPU
Core i7-6700K
Motherboard
ASUS Z170-A
Memory
DDR4-2133 8GB × 2 (15-15-15-35,1.20V)
Storage
256GB SSD
Graphics driver

GeForce 368.13 Driver

/ GeForce 358.91 Driver
OS
Windows 10 Pro 64bit