2. Package - Installation
As soon as you open the package you'll see the NexStar 3 sealed in an anti static bag.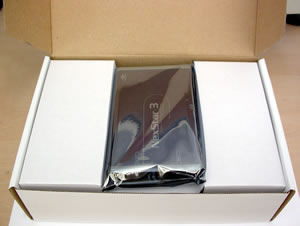 Remove the NexStar from the bag.
You'll need to remove the blue metallic cover in order to install the hard drive.
Place your 2.5" HD on the NexStar tray as shown in the following photo.
NexStar's HD slot

Hard Disk's connector
Slide the HD connector into the NexStar slot
NexStar with HD connected
Slide the tray back inside the metallic case.
Don't forget the screws...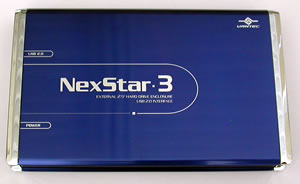 ...and you're finished.
The included cable for connecting the NexStar to the PC has a mini USB connection on one end and two connections at the other end, one USB A and one USB A-A /M-F which connect to the USB ports on your PC. Some HDD require a considerable amount of current in order to work, 0.5~1.0A, so you'll you have to connect both USB A connectors to your PC. It is also possible to use an external supply instead, which connects to a 5VDC inlet on the back of the NexStar. Check the power requirements of your hard drive before installing. (The external power pack is not included in the package).
Mini USB connects to the NexStar
USB A-A/MF and USB A connect to the PC.
As soon as you connect the NexStar 3 to your PC, it will be identified and reported with the name of the installed HDD. In our case, we used an 80GB HD from Fujitsu.
The NexStar 3 should be detected by your OS and automatically installed. If you have any problems, you can consult the included manual.
Installation Manual
For Win98SE and Mac OS 8.6, you'll have to use the following CD in order to install the NexStar 3. For further instructions, consult the included manual. For Windows ME/XP/2000, no drivers are necessary.
Installation CD
The contents of the Installation CD
As soon as the NexStar 3 is identified by the OS, you'll have to initialise and partition the Hard Drive before using it. You can find further details on this in the manual. Note that the device will be recognised by the hard disk's ID and not as the NexStar.
NexStar 3 while working
CAUTION: Never remove the NexStar 3 while it is in use. It is highly possible the HDD could be damaged or files corrupted.
We recommend you keep the NexStar 3 in its black case, protecting it against dust, scratches or any other kind of damage.