4. Conclusion

Vantec's latest product release, the Mach1 CPU cooler really lives up to its name. The high rotation speed of the fan along with the all copper based heatsink result in an overall temperature drop of 11°C over the stock Intel box CPU cooler. Unfortunately, the Mach1 produces a significant amount of noise, even at low fan speeds which is the cost that must be paid for the great temperature drops. It was for this reason that we had to deprive the Mach1 of the fifth star in the ranking table under Features/Design. Other than that, its performance and price make it one of the top cooling solutions on the market.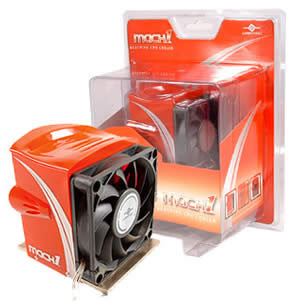 Stylish mach1, stylish retail box...
Installation of the mach1 was extremely easy as far as our Intel CPU was concerned. There's no need to replace the existing retention module and the brackets fit right in. For AMD processors, the backplate might need changing but again it's an easy task. Finally, do not forget to give the thermal compound time to set, approximately a day, for optimal performance.
The price of the Vantec Mach1 is between US$31~US$35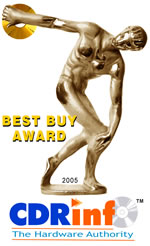 Pros:
-Performance
-Design
-Easy to install
Cons:
-High noise level.

| | |
| --- | --- |
| Performance: | |
| Features/Design: | |
| Installation: | |
| Value for money: | |