1. Introduction

Vantec Thermal Technologies was established in 1994 and since then has manufactured a variety of products for both "mainstream and enthusiast users". Cooling solutions, peripherals, storage devices, power supplies, PC modifications, even Notebook accessories are some of the products from Vantec available on the market.
One of its latest releases is the "Mach1" CPU cooler and we will be taking a closer look at what this Vantec cooler can do.
Design and Specifications...
Vantec has created a very "sleek", as the manufacturer calls it, design. Indeed, for a CPU cooler this is a very interesting design that will catch your eye. But it is not all just looks. The design also helps with the heat dissipation, directing the hot air out of the back of the cooler. The 83x79x84mm CPU fansink consists of a 70x70x15mm fan, two copper heat-pipes and 33 full copper fins.
The stylish mach1 CPU cooler...
Vantec used a copper base located on the bottom of the heatsink. It's not just a copper core like we are used to, but a wide copper base. This is meant to help increase with the transfer of heat, travelling from the base to the heat-pipes to the fins, resulting in better heat management and CPU cooling.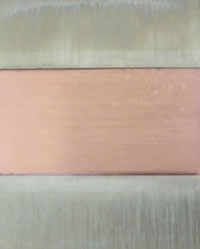 The copper base of the Mach1
Here are the detailed specifications as provided by Vantec:
Vantec mach1

Product Name

MP4-7015-FC

Dimensions

Heat Sink : 83x79x84mm
Fan : 70x70x15mm

Bearing

Ball bearing

Rated speed

2800-3800 RPM

Rate Current

7-12V

Noise level

29-34 dBA

Weight

515g

Current

0.10 A

Application

Intel Pentium 4 (socket 478)
AMD Athlon 64 (socket 754, 939)
AMD Athlon 64FX (socket 939, 940)
AMD Sempron (socket 754)
AMD Opteron (socket 940)

Thermal type

White grease
According to Vantec: "Virtually all heatsinks (with few exceptions) utilize copper, aluminum, or a mixture of both. Aluminum is by far the most popular metal used, and for good reason. Aluminum is lightweight (26.9815g/mol), a good heat conductor (237k (W/m·K)), and inexpensive. Copper is the other most popular material used. While copper is a much better heat conductor (401k (W/m·K)), it weighs almost 3 times as much (63.546g/mol) and is more expensive. Copper also takes a longer time to dissipate heat, though it absorbs much quicker.

A large, solid copper heatsink would be best at transferring heat, but the immense weight could literally rip the CPU socket off the motherboard (as they are usually mounted vertically). Most copper heatsinks are either not very large or consist mostly of fins. For this reason, manufacturers often design heatsinks with an aluminum body, but with a copper base and/or fins. This minimizes the weight and cost, while still utilizing the effectiveness of copper at transferring heat. The copper quickly absorbs the heat from the processor, allowing the aluminum to draw the heat from the copper and dissipates it."
The fan rotates at high speeds, ranging from 2800 to 3800 RPM so don't expect a low noise CPU cooler. Even at low speeds, the CPU fansink remains noisy. The RPM can be adjusted with the fan controller switch which is included in the retail package though its installation is not mandatory.
the airflow as depicted in the above picture...
A large "plus" for the Vantec CPU cooler is its compatibility with a wide variety of CPUs as the table above shows. So lets move on to the installation, which surprisingly enough was extremely easy on our Intel test PC.