Thermaltake PurePower 500W
1. Introduction

Thermaltake Technology was founded in 1999 and has since become one of the top brands in cooling solutions, high grade chassis, power supplies and other products. In 2003, Thermaltake designed the PurePower, a 360 W- 560 W, high-efficiency low-noise power supply which incorporates a 12cm fan with adjustable speed.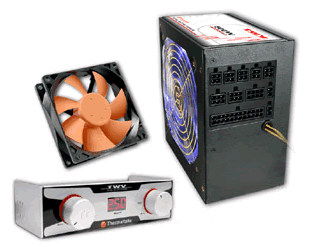 The Pure Power 500W PSU is a powerful solution for extreme, and not only, users. The most important features of the PSU are summarized below:
Features
- Modularized Cable Management design eliminates clutter and improves airflow inside the case
- Compliant with ATX 12V 2.0 version
- Dual PCI-Express connectors, 4 SATA connectors, and nine 4-pin power connectors
- Dual PCI-E Connectors- Nvidia SLI (Scalable Link Interface) Compliant
- Active PFC, increased energy efficiency, reduced current load on AC delivery systems and improved output voltage stability
- 5.25" Drive Bay embedded, a Total Watts Meter Module to read power consumption
- Fan Speed Controller (Connect to 5.25" drive bay, connect to 2 channels.)
- Protection against Over voltage, Short-Circuit, Over-current, Overload, and Over-temperature
- Safety / EMI Approvals: CB,CE, FCC, UL, CUL, TUV certification
Specifications
Maximum Power
500 Watts
Switches
ATX Logic on-off additional power rocker switch
Color
Black
PFC
(Power Factor Correction)
Active PFC
Cooling System
Blue LED 12cm Fan:
Speed 1300~2800 RPM
Dimensions 120 x 120 x 25 mm
Temperature Auto Control
P. G. Signal
100-500ms
Over Voltage Protection recycle AC to reset
+5V trip point < +7.0V
+3.3V trip point < +4.5V
+12V trip point <+16V
Dimensions
Unit Size
15cm(L)x14cm(W)x8.6cm(H)
Net Weight
2.0 kg
Noise
17dBA at 1300RPM
Input
Input Voltage
115 VAC / 230 VAC
Input Frequency Range
50 ~ 60 Hz
Input Current
10A
Hold-up Time
16ms
Efficiency
> 70%
OUTPUT
+3.3V
+5V
+12V
+12V
-12V
+5VSB
Max. Load
30A
30A
18A
18A
0.5A
2A
Min. Load
0.2A
2.5A
0.5A
0.5A
0.05A
0.05A
Load Reg.
+5% ~ -5%
+5% ~ -5%
+5% ~ -5%
+5% ~ -5%
+10% ~ -10%
+5% ~ -5%
Ripple V(p-p)
50mV
50mV
120mV
120mV
150mV
100mV
Retail Package
Our first impression after opening the retail package was rather good. Everything is packaged in an orderly manner inside several boxes.
We checked to make sure our package contained everything, among them the PSU, an extra 12cm fan and the front panel device were things we expected to see. There's also all the necessary screws included for mounting the PSU and its peripherals on your system.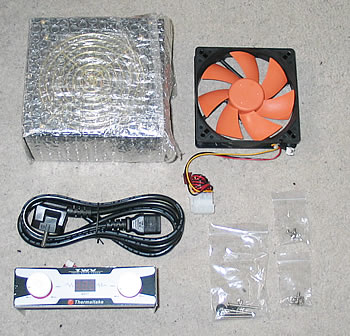 The included cables are more than you can expect: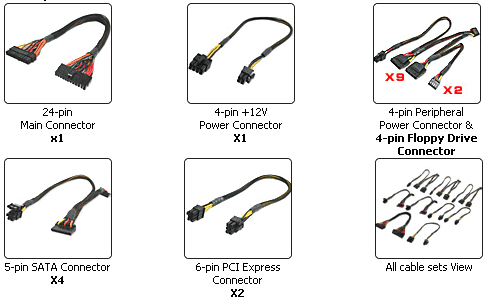 The included 12cm fan is intended to operate as the case fan. The rotation speed of this fan can be controlled through the Total Watts Viewer 5.25" Driver Bay Application.
The following device is the Total Watts Viewer 5.25" Driver Bay Application. There are two controllers, one for the case fan and one for the PSU fan. Also in the middle there is a LED screen which displays the power consumption.