2. A Closer Look
We usually don't say this, but you will NOT void the warranty by opening this device up. After all, opening the AVOX case is needed to install the 2.5" drive.
The first thing that you will see when you remove the top cover, is the circuit board protected by the white covering as shown in the picture, to prevent the hard drive from touching the board.
Removing this circuit board will reveal several chipsets that are used to decode video, audio and picture files. To be more precise, it consists of the following:
Sigma Designs EM8511 Decoder
This is the powerfull REALmagic decoder by Sigma Designs. For all those that don't remember Sigma Designs, we should remind you that this is one of the first companies that started manufacturing chipsets to decode MPEG2 files and reduce CPU load for such processes. The Sigma Designs' chipsets are known to produce the best image and video quality when it comes to video decoding. Especially the EM8510 family, which provides highly-integrated solutions for products requiring MPEG-4.2, MPEG-2 and DVD decoding. Unique features offered by the EM8510 family include analog YPbPr/RGB video outputs with optional scaling up to HDTV resolution and support for external MPEG encoder and networking chips. A wide variety of media types are supported, accessible through a powerful navigation engine.
Hynix HY57V643220DT-6 8MB memory chip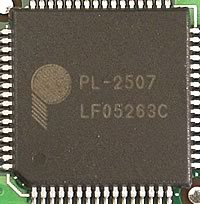 Prolific USB 2.0-IDE bridge controller
Philips 74LVC08AD high-performance, low-power, low-voltage, Si-gate CMOS chipset
Samsung K8D3216UTC EPROM device