1. Introduction
Vantec was founded in 1994, and is one of the leading manufacturers of cooling solutions world-wide. Although fans and coolers are what have made Vantec known to the public, there are other, wide ranging products that Vantec manufactures from time to time.

Their latest innovative product is a multi-function device called the AVOX Jukebox. It is a mobile storage device and a multimedia player, all packed in a small sized box. It can connect to your PC to store your files and transfer them easily to another computer, just as you would do with any pocket-size disk. You can also connect your Vantec AVOX to your TV set and watch you favorite movies (DVD, DivX, XviD, etc), view your latest photos you took with your camera, or even listen to your favorite music.
- Features
The only thing that you need to do is install a 2.5"hard disk, like that found on almost all notebooks. Note, the required disk is not part of the retail package.
The device uses the popular USB2.0 interface to connect to a PC and operate as a simple external storage device (up to 480Mbps transfer speed). The device can also operate with the slower, USB1.1 port.

Among its list of features, there is one that stands out. This is the support for DivX and XviD encoded files. This means that you can watch on your TV set, all those movies you downloaded from the internet, since DivX and XviD compression methods are very popular around the web.
A small list of features can be seen below:
USB 2.0 External Storage via PC (NTFS, FAT32)
Digital Multimedia Player via Home TV or Car TV
Audio - Stereo, Digital Coaxial 5.1 ch. Sound
Video - Composite, HD Component 480p, 720p, 1080i
DVD Manager - Playback of DVD File same as Original
DVD Title
Easy Firmware Upgrade
- Specifications
Power
DC 5V/2A
Weight
160g (without HDD)
Dimension
80 x 148 x 24 mm
Working Temperature
0 C~50 C
Working Humidity
10%~75%
Available OS
Windows 98/SE/ME/2000/XP, MAC 9.0 higher,
Linux 2.4 higher
PC Interface
480Mbps USB 2.0 High-Speed (USB 1.1 compatible)
HDD Type
2.5" IDE HDD
HDD File System
FAT32, NTFS
TV Type
PAL, NTSC
Supported formats

Movie: MPEG 1, 2, 4
(MPG, MPEG,AVI, M2V, DAT, VOB, IFO etc), DivX, XviD (except GMC, Qpel option applied)
Music: MP3, OGG Vorbis, WMA
Photo: JPG(JPEG)

Video Output
COMPOSITE
COMPONENT Y, Pb, Pr
(480p, 720p, 1080i Progressive Scan)
Audio Output
STEREO L-R
DIGITAL COAXIAL (DTS Pass-Through Only)
External IR
Optional
- Retail Package
We received the retail box of the Vantec AVOX Jukebox and we were happy to see a very well organized package that includes everything you need to connect the AVOX device to any PC or TV set.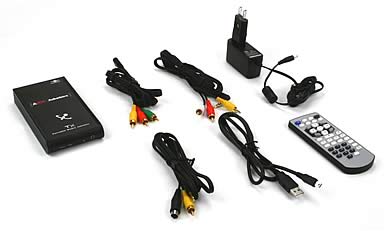 As you can see from the photo above, inside the box you will find the AVOX device (the 2.5" hard disk is not included in the package), a remote control (batteries ARE included), an AC cable (Composite + Stereo L-R), Component video cable, Coaxial audio cable and the power adapter. Of course, you will also find a user's manual and a driver's disc needed for Windows 98/Me users.

The device itself looks very simple. On the front you will see the power led, the activity led and the IR led.

On the back panel you will find the USB2.0 connection, the 5V power connection and the video/audio connectors. From left to right you can see the IR/5.1 connector (can be used to install an IR adapter), the SD/HD connector and the AV connector. You should use the appropriate cable provided for each of these connections.

This is the label on the device, located at the bottom of the black AVOX box.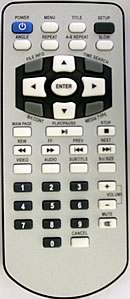 You can only have complete control of the AVOX Jukebox with the remote control provided in the retail package. This remote control is needed to perform most operations with the AVOX when operating as a multimedia player. So, you should not lose it or damage it!
- Testing software/procedure
We should explain in the next few lines, the way that we decided to test this device. First of all, you can't easily find other devices on the market that offer what the Vantec AVOX Jukebox has to offer, so we had to put our minds together to figure out a way to test this device. In any case, one thing is certain: there are two key points that will be examined in this review. One is the compatibility of the AVOX with a wide range of audio, video and picture files, encoded with different codecs and methods. The second key point is to investigate the image/video quality the AVOX offers when operating as a multimedia device.
In order to test the compatibility of this device, we created several audio and video files with different codecs. We then tested the playability of these files with the AVOX. The results are presented later on in this review and they are quite interesting.
In order to investigate video and picture quality, we were interested in capturing still images, moving pictures and test screens. These test screens are used mostly to investigate the color clarity. Of course, we used not only light images and scenes, but also darker ones. All these themes were taken from the "Plasma TV Demo DVD" provided by Pioneer, without any kind of conversion or compression.
It makes no sense to examine the speed performance of the AVOX device, since transfer rates are dependent on the hard disk's transfer rate. This means that if we choose to use a pretty fast drive, the AVOX will behave accordingly. For this review, we used a Fujitsu MHN2200AT (20GB) 2.5" hard disk. So let's not waste any more time and get the tests running...