Thermaltake Level 10 GT Review
1. Introduction
Following the launch of Level 10 Super Gaming Modular Case, the design collaboration between Thermaltake and BMW Group DesignworksUSA, in 2009, Thermaltake looks to invigorate the PC enthusiasts with the latest Level 10 GT computer case. Smaller in dimensions and also more affordable than its its predecessor, the Level 10 GT has been designed with passion for visual aesthetics, deriving from demanding game play and multimedia entertainment enthusiasm.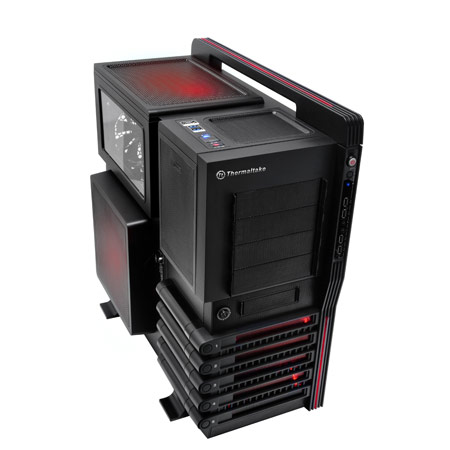 Despite the smaller dimensions compared to the original Level 10, the Level 10 GT is a massive full-tower PC case: The first Level 10 weighed 21.4kg and measured 614mm x 318mm x 666.3mm. The new GT version slims down to 584mm x 282mm x 590mm and weighs a more comfortable 12.7kg. In addition, the the GT successor is priced at a mere $260, which is still much although more affordable than the original.
Features
Cooling: one top 200mm exhaust fan, one front 200mm intake fan, one side 200mm intake fan and one rear 140mm exhaust fan.
Hinged side panel to enable easier opening of the side door and access to computer for maintenance or upgrade. Improved cable management. User no longer "hides" the excessive cable on the back, the Level 10 GT features numerous holders designed into the chassis for cable management.
Five hot-swappable hard drive bays, each with its dedicated backplane to support hot-swap. Hard drive mounting supports both 2.5" or 3.5" drives.
Connectivity array. Four USB 2.0 ports are located on the front bezel including a pair of audio ports. Two USB 3.0 ports and one eSATA port located on the top.
Water cooling ready - 120mm or 240mm radiators can be attached to the top side of the chassis (top 200m fan needs to be removed)
Fan speed management control embedded. ColorShift fans can be controlled through controls on the top.
Fully black-powdered interior.
Basic features of the new case include the EasySwap Pitstop 5, where every HDD/SDD has its own removable tray for easy and fast plug-in, 2 USB 3.0 connectors right on the top of the Level 10 GT and a new cable management inside that bundles respective cables almost like in tunnels behind a back plate.
Thermaltake has also implemented the QuadFan (of which three also feature ColorShift) Ventilation concept with triple ColorShift three LED fans with five sets of illuminations.
The case is also ready for Liquid Cooling Systems and offers ample space for up to 37 cm oversized cards.
- Specifications
Model
VN10001WN2
Material
SECC
Front bezel material
Plastic
Case Type
Full Tower
Dimension (H x W x D)
584 x 282 x 590 mm
Side Panel
Window
Color
Exterior & Interior: Black
Material
SECC
Cooling System
Front (intake):
200 x 200 x 20 mm ColorShift Fan x 1 (600~800RPM, 13~15dBA)

Rear (exhaust):
140 x 140 x 25 mm Turbo Fan (1000PRM, 16 dBA)

Top (exhaust):
200 x 200 x 30 mm ColorShift Fan (600~800RPM, 13~15dBA)

Side (intake):
200 x 200 x 30 ColorShift Fan (600~800RPM), 13~15dBA)

Bottom (intake):
120 x 120 x 25mm (optional)
Drive Bays
- Accessible : 4 x 5.25" , 1 x 3.5"
- Hidden : HDD EasySwap 3.5'' x 5
Expansion Slots
8
Motherboards
Micro ATX
ATX
Extended ATX
I/O Ports
USB 3.0 x 2
USB 2.0 x 4
eSATA x 1
HD Audio x 1
PSU
Standard ATX PS2
Net Weight
28.0 lbs
Security lock
Front HDD Access
Side Panel
Rear peripherals
LCS upgradable

Supports 1/2" , 3/8", 1/4" water tube

CPU cooler height limitation: 190 mm

VGA length limitation: 360 mm