Thermaltake Level 10 GT Review
4. Final thoughts
Thermaltake's Level 10 GT may lack the instant wow factor associated with its predecessor, the Level 10, buy any alterations were necessary to get the cost down. The result is a less striking and special case, made of steel-and-plastic case; a product geared toward everyday tinkerers.
Thermaltake has succeeded in adding some subtle touches to the Level 10 GT, which will be certainly appreciated by most users. The case is offering many great features such as a headset hanger, USB 3.0, convenient and smart wire management features, tool-less installation of basic components, handy security locks to keep the case safe as well as a very smart hinged side panel door for easy access to the internals.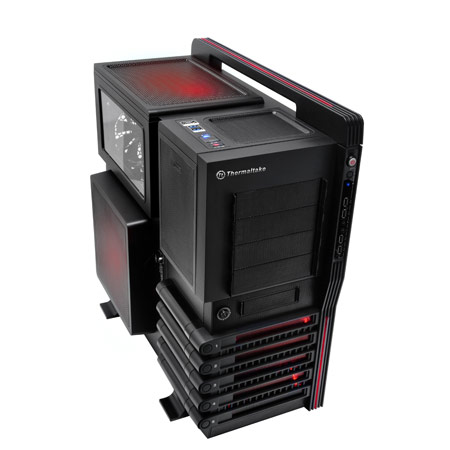 The available external hotswap capable HDD bays are very convenient especially when you have a lot of hard drives. Thermaltake has also managed to keep the case cool by adding four large fans inside the case. The fans are color change capable and are also adjustable to operate in high or low speed, according to the users' demands for increased cooling efficiency or more quiet operation.
As far as inconveniences, the Level 10 GT's rear panel look less strong and durable than its predecessor, some . sections such as the main side panel and the hard drive enclosures required two hands to open them and the headphone hook is also a little hokey.
The original Level 10 retailed at a very unaffordable $800 and sported a many of the features found on the Level 10 GT features also but in a much larger package. The Level 10 GT brings the price down to $270, which is still a little bit pricey. Should you be considering an investment of nearly $300 on a high-performance chassis, the Level 10 GT should be among your choices.