Thermaltake Level 10 GT Review
3. Inside the cassis
Below you see an internal view of the case. It isn't as visually striking, but it's easy to work with and there's plenty of room inside. You will be able to install CPU coolers measuring up to 190mm in height as well as graphics cards measuring up to 360mm in length.
Cabling for all the fans is neatly pre-routed and requires connection to only a single molex connector. The are also holes surrounded by rubber grommets to help with cable management.
With the back panel removed, below you can see that cable routing is well catered for. Thermaltake also provides lengthy cables for the front I/O ports, making it easy to route the two top-mounted SuperSpeed USB 3.0 ports to connectors on the rear of your motherboard.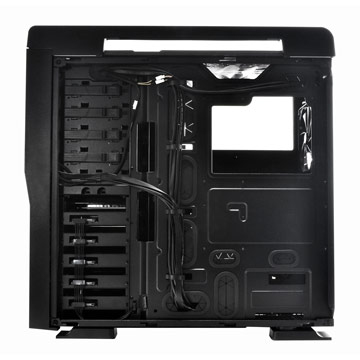 Below you see the 5.25" bays. In order to install a device, first you need to remove the 5.25" drive bay cover.
Place the 5.25" device into the drive bay and make sure that the screw hole lines up as diagram. Then push the latch forward until it locks.
The Easy Swap slots are also embedded to enable transfer of large data to a SATA III (6.0 GBps) hard disk without having to use an external storage enclosure. In order to install a device, squeeze to pull the HDD tray out. . Mount the 3.5" HDD into the tray with screws provided.. Then slide the HDD tray back to the HDD cage and connect the SATA cable to an available SATA connector on the motherboard or SATA controller card. The next step is to connect the power cable to power supply.
In order to use the "hotswap" capability of SATA devices you need to make sure that AHCI (Advanced Host Controller Interface) is enabled on your motherboard or SATA controller card. This will allow you to install your device without having to turn off the computer.
On the front of the case, you can find some LEDs and switch leads. Nothing new here, just consult your user manual of your motherboard manufacturer, then connect these leads to the panel header on the motherboard.

The PSU can be mounted at the bottom of the case. As you see in the picture below, there is enough space there to fit any large PSU. Of course, make sure the cables of your PSU are long enough to reach the motherboard and the other components you may install, as the distance among the base of the case and the motherboard is long:
We could not mount all the four screws on the PSU as one of the holes on the case did not match: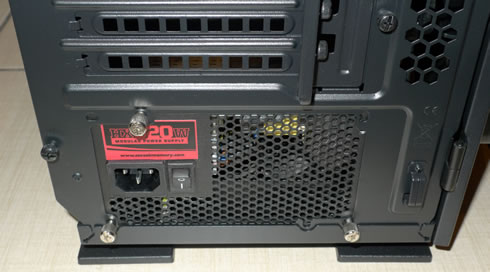 Before installing a motherboard, you'd better lay down the chassis first. .Install the motherboard in proper location and secure it with screws. As you se ion the picture below the motherboard fits perfectly inside the case and there is also enough free space left around it:
Cabling can be conveniently routed through the available holes and behind the motherboard tray: