Thermaltake Level 10 GT Review
2. External look
The case arrives in a massive black box. The 'Driving Inspiration' logo on the front indicates that this case was crafted with BMW Designworks:
Inside this black box are some useful accessories. One of most notable mention is an 8-pin CPU extension cable so you can easily route your 8-pin wire behind your motherboard tray. The cable also has an offshoot of a 4-pin plug in case you are stuck with a older system. Also included in the box of course is an instruction manual.
As we previously mentioned, this case is smaller than the original Level 10, measuring 614mm x 318mm x 666.3mm and it's also lighter at a a more comfortable 12.7kg. The case retains the all-black coloring, the handle complete with integrated red LED light strip) and the the vertically oriented front-panel ports.

Let's have a closer look. The front of the level 10 GT is a plastic bezel that features four 5.25" device bays, a 3.5" bay, 5 x 3.5 or 2.5" EasySwap trays for HDDs or SSD, and the front I/O ports. These include four USB 2.0 ports, activity LEDs, a pair of audio ports (Headset and MIC) and the power and reset buttons:
The five hot-swappable hard-disk bays are lockable, and each is released at the push of a button allowing the drive tray to slide out sideways. Drive installation is almost tool-free, as you need to screw in either 2.5" or 3.5" disks. Each of these drive bays can house a hard drive or SSD drive. SSD's are locked in place with screws from the underside of the bay. Mechanical drives are mounted from the sides.
The row of drive bays can be powered from a single sata connector.
The system is tidy and works well, although the drive trays are plastic as opposed to aluminium for the previous Level 10 model, and there are no longer any status LEDs to indicate which bays are occupied: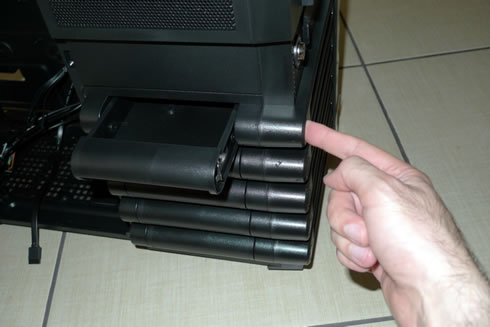 Included with the Level 10 GT is also a locking system to protect your components from theft:
Standard ventilation includes a front intake 200 x 200 x 20 mm ColorShift fan (600~800RPM, 13~15dBA) a read (exhaust) 140 x 140 x 25 mm Turbo Fan (1000PRM, 16 dBA), a top (exhaust) 200 x 200 x 30 mm ColorShift fan (600~800RPM, 13~15dBA), a side (intake) 200 x 200 x 30 ColorShift fan (600~800RPM), 13~15dBA) and optionally a bottom (intake) 120 x 120 x 25mm fan. All of the case fans are powered from a single molex connector.
Another lock is provided at the flip side of the case, for preventing unauthorized access to your system's interior:
The GT features merely a single steel door that swings open to provide access to the main compartment. The door is opened by a spring-loaded button that's hidden on its bottom edge.
The bottom has a large, dust filtered fan sitting in a protrubence that helps avoid clearance issues. The dust filter for it slides out the side nicely making cleaning a simple procedure.
At the the top of the case, an I/O panel provides a pair of SuperSpeed USB 3.0 ports, eSATA and three buttons to control fan speed and color.
The fan controller is able to reduce the fan speed or increase it to max and is also able to change between the different colored LEDs which include red, blue, and green LEDs, and if it isn't your thing, you can turn off the light show completely.
You can choose between two preset fan speeds - low or high. Even with all 4 fans spinning at high speeds, the produced noise is not annoyingly loud.
Next up we have a close-up shot of the rear of the case, which suggests that the chassis offers ample room to work with. Eight tool-free expansion slots are available, as are a trio of pre-drilled holes for all your liquid-cooling needs: