4. The BIOS
The BIOS is from Phoenix-Award. For most users, it should be very familiar:
Under "CPU Feature", we can disable C1E (speedstep):
While we can also manually set the DRAM timings to 667/800MHz DRAM:FSB ratio.
PC Health status is always useful for monitoring system voltages and CPU temperature: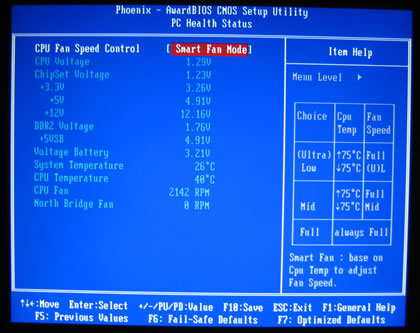 Lastly, the Frequency/Voltage control offers the possibility to "overclock" your box. Interestingly, users can set CPU ratio, FSB and PCI-E clock.
CPU Voltage: default + 10mV~ 500mV with 10mV step
DDR2 Voltage: 1.825V~2.500V with 0.025V step
FSB Voltage: 1.25V~1.35V with 0.05V step
NB Voltage: 1.30V~1.40V with 0.05V step
SB Voltage: 1.55V~1.65V with 0.05V step
Voltage control is rather limited. The CPU voltages are calculated with an offset from the default value:
Shuttle offers several pre-defined overclocking settings, not very useful in our opinion