24. 109 vs SA300
Pioneer DVR-109 Burner - Page 24
109 vs SA300
For checking exactly what the Pioneer DVR-109 reports, we used three different media, burned with other writers. The three media have been measured with the well known AudioDev SA300 DVD CATS system at 1X. We used the latest version of CDSpeed, with a special switch to turn this function on. DVDinfoPro can be used to work with the drive, but there are some consern about what it reports exactly. Please note that the posted results are only valid for the specific tested Pioneer drive. Using other drives, even another DVR-109, can produce totally different results. Be aware!
In the case of PI sum, the trend lines are similar but the values are very different. On the other hand, both PIF trend lines and value levels are almost the same.
Once again the PIF graphs and values are close enough while for PI sum, only the trend lines are similar.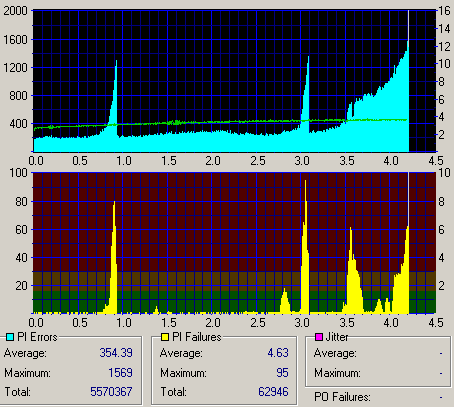 Neither the trend lines or the values for both PI sum and PIF graphs are similar.