22. DVD+R DL - Page 1
Pioneer DVR-109 Burner - Page 22
DVD+R DL - Page 1
The Pioneer DVR-109 is among the first DVD burners (along with Plextor's PX-716A) supporting 6X DVD+R DL with currently sold 2.4X Verbatim DVD+R DL media. We don't have any DVD-R DL media yet at our labs, but in any case the DVR-109 doesn't support DVD-R DL under v1.17 firmware.
The source disc was "Gladiator Movie - Special Edition" Disc1 with a total size of 6.86GB. First we transferred the movie to the hard disc with DVD Decrypter in ISO format (single file).
We chose the "GLADIATOR.ISO" image file and we selected the Pioneer burner to start burning.
When we pressed "OK", the burning procedure started:
The DVR-109 finished the burning task after 16:29, which is the lowest recording times we have witnessed at our labs. According to CopyToDVD, the average writing speed was 5.37X and as was expected, the recorded disc had DVD-ROM booktype, important for the highest possible compatibility with DVD players.
We used media from Traxdata, CMC Magnetics, Ricoh and Philips to confirm the drive's writing abilities. Below are the logs from CopyToDVD for each burn:
- Traxdata DVD+R DL 2.4X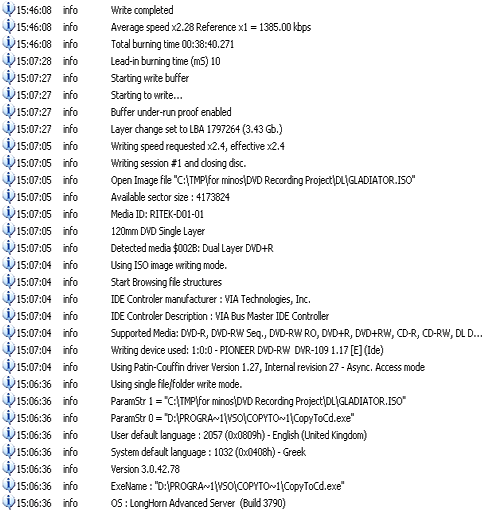 - CMC Magnetics DVD+R DL 2.4X
- Ricoh DVD+R DL 2.4X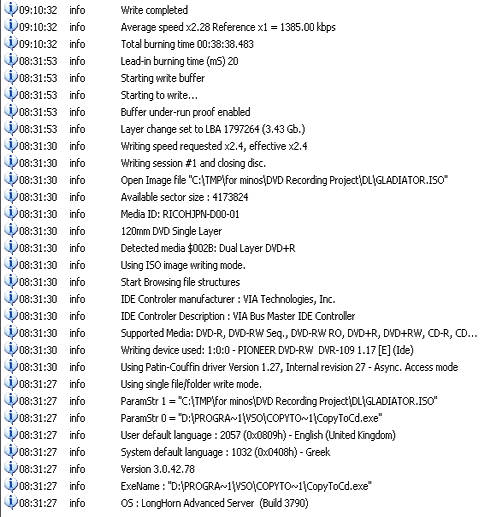 - Philips DVD+R DL 2.4X
For comparison reasons, we post DL burning results from other writers, with the same disc content and same recording software. The Pioneer DVR-109A is the fastest since it supports 6X (CLV) speed:
| | |
| --- | --- |
| Drive | Time (mins) |
| Pioneer DVR-109 (6X) | 16:29 |
| LG GSA-4163B | 22:24 |
| LG GSA-4160B | 37:59 |
| Plextor PX-716A | 23:33 |
| NEC ND-3520A | 22:35 |
| NEC ND-3500A | 22:52 |
| Pioneer DVR-108 | 23:10 |
| Asus DRW-1604P | 23:10 |
| Philips DVDR1640P | 24:23 |
| BenQ DW1620A | 24:21 |