6. DAE Tests
Pioneer DVR-109 Burner - Page 6
DAE Tests
- Pressed and CDR AudioCD results
The drive supports up to 40X CAV DAE speed. The following results were reported when using Exact Audio Copy.
The Pioneer confirmed the manufacturer's specifications regarding 40X DAE speed. As EAC reports, the drive doesn't support C2 error reporting (at least compatible with EAC), but caching and accurate stream are supported.
- Advanced DAE Quality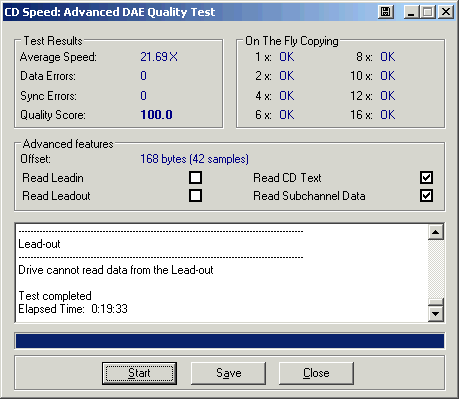 Pioneer received a perfect quality score of 100. Unfortunately, the Pioneer drive can't read Lead-in/out data but can read CD Text and Subchannel data.
- Ripping 90/99mins AudioCDs
The drive has problems reading 90/99min Audio CDs with NeroCDSpeed. As it can be seem from the tranfer rate graphs below, the drive failed to finish both readings.