6. Final words

After having tested OCZ's Vertex series, we weren't quite sure of what to expect from the new Agility series of SSD's. To be honest, the Vertex series has received so many positive reviews and great acceptance from online users so releasing a new successful series of SSD's. in such a short period of time could be a challenge for OCZ.
After many pages of tests and information, we can easily say that the Agility 120GB SSD is a fine, fast and attractive product. While the drive slightly lags behind the Vertex series in both reading and writing tasks, it managed stay close in the benchmark figures and frankly we don't expect any user to experience any differences in real use.
What users will definitely feel is the additional one year warranty for Vertex series. We hope that OCZ will also do something for the Agility users too.
Both Vertex and Agility series are based at the Indilinx controller with 64MB cache, which makes the difference and provides shutter-free operation. While the performance of the SSD will eventually degrade after long time use, the wiper.exe software is available to bring back the drive at its original state.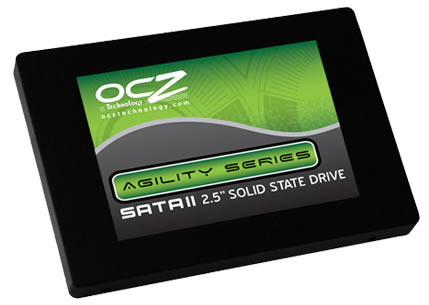 OCZ Technology has a very active community and will continue to improve the product by providing frequent firmware upgrades.
To sum up, we found that the Agility series performs blazing fast with high response in all tasks and without any problems. The price is not as low as we would love to see but it is lower than the Vertex series. The product comes with two years of warranty and the highly good support from OCZ makes us no thinking back when looking the Agility series at a retail/on-line shop. Good work OCZ!
Pros
+ Very high reading/writing performance
+ 2 years warranty
+ 64MB Cache buffer permanently solves 'stuttering' problem
+ Supports RAID-0 setup
+ Supports TRIM command with wiper.exe
+ Firmware upgradable
+ Very active forums and constant support with firmware upgrades
+ Price is below the Vertex series
Cons
- OCZ hasn't included any jumper for firmware update, in case users needed it
- Vertex series are slightly faster but would cost you more ... a hard decision for end users!