Toshiba OCZ RD400 512GB M.2 PCIe SSD
1. Features
Toshiba's first M.2 PCIe SSD into the consumer market is the RD400. Available under the enthusiast-oriented OCZ consumer brand, the D400 comes with a native PCIe SSD controller and the first PCIe 3 SSD from OCZ.
The RD400 uses Toshiba 15nm MLC and a "secret" Toshiba-branded controller, which Toshiba has said nothing about it. Guessing is not always easy. Toshiba uses its own controller in the Trion/TR drives, most probably based on the Phison S10. So the RD400 may be using a controller that is also based on a third-party design, most likely the Marvell 88SS1093. We hope that Toshiba will be kind enough to correct us.
The RD400 comes with a custom NVMe driver for Windows that Toshiba says offers better performance than Microsoft's driver. The drive is also supported by OCZ's SSD management utilities, and is optionally sold with a PCIe x4 to M.2 adapter that includes a thermal pad under the SSD controller.
The M.2 SSD module is coming with the drive pre-installed in the adapter. The PCIe x4 to M.2 adapter is a welcome option for some desktop users. It draws power from the PCIe slot's 12V supply and converts it to the 3.3V required by the M.2 drive.
Toshiba has changed the OCZ SSD Guru software into the OCZ SSD Utility and the ShieldPlus Warranty into the Advanced Warranty Program, but the relevant details are the same. Toshiba has also added a new software tool: CLOUT, the Command Line Online Update Tool. This one offers all the management capabilities of the graphical SSD Utility but from a scriptable command line interface.
The RD400 is also backed by OCZ's awesome 5-year Advanced Warranty Program where you get advanced RMA on serial and free return shipping.
The competition for the RD400 consists primarily of the Samsung 950 Pro and the Intel SSD 750.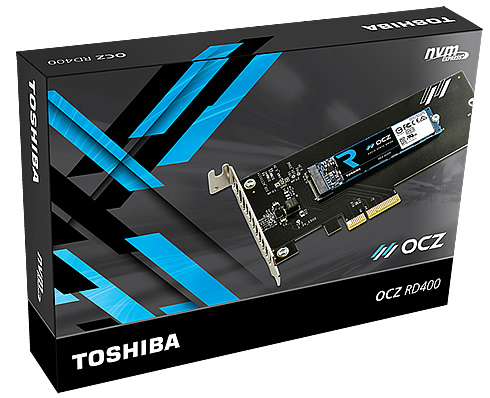 The OCZ RD400 is a PCIe 3.0 x4 NVMe SSD that comes in a M.2 2280 form factor as well as an optional HHHL AIC form factor via an adapter. It is currently available in four capacities: 128GB ($109.99), 256GB ($169.99), 512GB ($309.99) and 1TB ($739.99). The HHHL AIC sku's are an additional $20 each.
Sequential speeds are rated for up to 2600MB/s read and 1600MB/s write. Random read and write speeds are listed for up to 210K/140K IOPS. Endurance figures are also impressive with the 1TB model having a listed spec that is more than four times greater than that of the Intel 750. Active power consumption is rated for 6-6.4W typical while low power state consumption is rated for 6.0mW typical.
In terms of features, the RD400 supports TRIM and SMART monitoring.
Specifications
PERFORMANCE
128GB
256GB
512GB
1024GB
Sequential Read
Up to 2,200 MB/s
Up to 2,600 MB/s
Up to 2,600 MB/s
Up to 2,600 MB/s
Sequential Write
Up to 620 MB/s
Up to 1,150 MB/s
Up to 1,600 MB/s
Up to 1,550 MB/s
Random Read (4KiB)
Up to 170,000 IOPS
Up to 210,000 IOPS
Up to 190,000 IOPS
Up to 210,000 IOPS
Random Write (4KiB)
Up to 110,000 IOPS
Up to 140,000 IOPS
Up to 120,000 IOPS
Up to 130,000 IOPS
ENDURANCE
TBW (Total Bytes Written)
74 TB
148 TB
296 TB
592 TB
Daily Usage Guidelines
40 GB/day
81 GB/day
162 GB/day
324 GB/day
PHYSICAL
Capacities
128GB, 256GB, 512GB, 1024GB
Form Factor
M.2 2280, M.2 2280+AIC
Interface
PCI Express Base Specification Revision 3.1 (PCIe)
Maximum Speed
32 GT/s (PCIe Gen3x4L )
Command
NVM Express Revision 1.1b (NVMe)
NAND Flash Memory Type
MLC
Dimension (L x W x H)
128GB, 256GB, 512GB: 80 x 22 x 2.23 mm
1024GB: 80 x 22 x 3.58 mm
AIC: 157.64 x 105.51 x 17.2 mm
Drive Weight
128GB: 6.8 g (typ.)
256GB, 512GB: 7.2 g (typ.)
1024GB: 8.6 g (typ.)
AIC: 63 g (typ.)
POWER REQUIREMENTS
Supply Voltage
128GB, 256GB, 512GB, 1024GB: 3.3V ±5 %
AIC: 12V ±5 %

Power Consumption (Active)
128GB, 256GB, 512GB: 6.0 W (typ.)
1024GB and AIC: 6.4 W (typ.)
Power Consumption (Power State 5)
128GB, 256GB, 512GB, 1024GB and AIC: 6.0 mW (typ.)
ENVIRONMENTAL
Operating Temperature (Tc)
0°C to 70°C
Storage Temperature
-40°C to 85°C
Shock Resistance
9.8 km/s {1000 G} (0.5 ms)
Vibration
Operational
21 m/s2 {2.17 Grms} (Peak, 7 to 800 Hz)
Non-operational
30 m/s {3.13 Grms} (Peak, 5 to 800 Hz)
Certifications
UL/cUL, FCC, CE, RCM, KC, BSMI, VCCI, and ISED
RELIABILITY / SECURITY
MTTF>
1.5 Mhours
Product Health Monitoring
Self-Monitoring, Analysis and Reporting Technology (SMART) Support
COMPATIBILITY
PCI Express
Compatible with PCI ExpressBase Specification Revision 3.1
Operating System
Windows 10, Windows8.1, Windows7
LinuxFedora 21, Mint 17.1, ElementaryOS Freya, OpenSUSE 13.2, Ubuntu 14.04, Ubuntu 14.10
Connector Type
M.2: M.2 M key socket
AIC: PCIe slot
Targeted Applications
Client workstations and laptops
ADDITIONAL FEATURES
Performance Optimization
TRIM, Idle Time Garbage Collection
Service & Support
5-Year Advanced Warranty Program, Toll-Free Tech Support
Software
SSD management software: SSD Utility and Command Line Online Update Tool (CLOUT)
ORDERING INFORMATION
CAPACITY
PART NUMBER
UPC
RD400
128GB
RVD400-M22280-128G
842024037347
256GB
RVD400-M22280-256G
842024037354
512GB
RVD400-M22280-512G
842024037361
1024GB
RVD400-M22280-1T
842024037378
RD400A (with AIC)
128GB
RVD400-M22280-128G-A
842024037538
256GB
RVD400-M22280-256G-A
842024037552
512GB
RVD400-M22280-512G-A
842024037569
1024GB
RVD400-M22280-1T-A
842024037545