1. Features, specifications

OCZ Technology continues to aggressively release new solid state drives offering many different series of drives for any budget. Today we l take a look to a "budget" product part of the company's "Agility" series. OCZ claims the the new drive can easily compete with more expensive SSD solutions and we hope our benchmarks will confirm this.

The OCZ Agility Series includes new architecture and controller design, fast read/write speeds, and 64MB of onboard cache.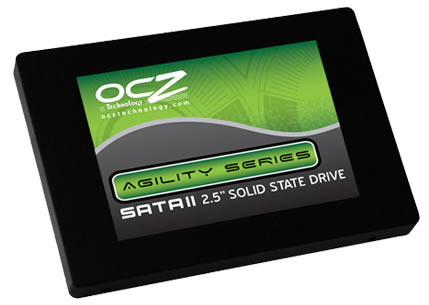 Typically designed for r notebooks and desktops alike, the Agility Series is energy-efficient aimed at mobile computing devices with extended battery life, increase the speed of access time, and provide a durable alternative to conventional hard disc drives with superior shock resistance.
The OCZ Agility drives feature a lightweight alloy housing, and because OCZ SSD's have no moving parts, the drives are more rugged than traditional hard drives. The SSD's have an 1.5 million hour mean time before failure (MTBF) and come backed a two year warranty and OCZ's service and support.
- Features
Available in 30GB (32), 60GB (64), 120GB (128) capacities
120GB Max Performance

Read: Up to 230 MB/s
Write: Up to 135MB/s
Sustained Write: Up to 80MB/s

64MB Onboard Cache
Seek Time: <.1ms
Slim 2.5" Design
99.8 x 69.63 x 9.3mm
Lightweight 77g
Operating Temp: 0C ~ 70C
Storage Temp: -45C ~ +85C
Low Power Consumption: 2W in operation, .5W in stand by
Shock Resistant 1500G
RAID Support
MTBF 1.5 million hours
2 years warranty