Value-Optimized Toshiba RC100 NVMe SSDs Now Available
Toshiba announced that its RC100 Series of NVMe (NVM Express) M.2 solid state drives (SSDs), first introduced at CES 2018, is now available.
The Toshiba OCZ RC100 Series is suited to the entire spectrum of mainstream computing - from gaming desktops and notebooks to mini-PCs (NUCs) and everything in between. The new drives are available in capacities of 120, 240 and 480GB.
The new SSD s are leveraging Toshiba's 64-layer, 3-bit-per-cell TLC (triple-level cell) BiCS FLASH technology and an in-house-developed controller. The result is an entire SSD fitted within a single BGA package. The RC100 series balances cost and performance and bridges the gap between SATA and enthusiast-grade NVMe SSDs. A compact design also enables the RC100 to fit onto an M.2 2242 (22x42mm) PCB, making it one of the smallest SSDs commercially available.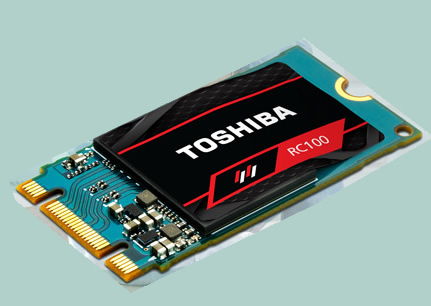 Toshiba claims sequential reads of up to 1600 MB/s, sequential writes of up to 1100 MB/s, up to 150K random read IOPS, and up to 110K random write IOPS.
TheRC100 SSDs are also designed for efficiency, consuming approximately 70 percent of the active power draw of enthusiast NVMe drives and giving mobile users even longer battery life on the go.
The 128-GB RC100 will list for $59.99. 240 GB of RC100 will go for $79.99, while the largest-capacity 480-GB model will list for $154.99.