6. DVD+R DL - Page 1
NEC ND-3520A Burner - Page 6
DVD+R DL - Page 1
- Writing Tests
We burned one DVD+R DL disc with DVD-Video content. The source disc was "Gladiator Movie - Special Edition" disc1 with a total size of 6.86GB. First we transferred the movie to the hard disc with DVD Decrypter as ISO format (single file). We used Double Layer media provided by Traxdata and Verbatim (MKM). The following picture shows the media code of these Double Layer discs. Of course, more double layer media will be burned in the full review.
We then used the latest version of CopyToDVD. The software prompts us to select Video_TS/ISO image folder. We chose the "GLADIATOR.ISO" image and we selected the NEC ND-3520A burner.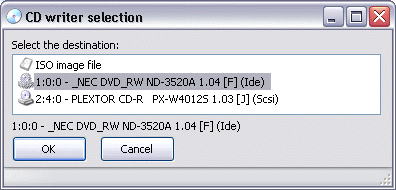 We did not make any bitsetting changes, in order to see what booktype setting the drive uses as default for DVD+R9 media.
The drive needed 22:35mins to finish the burning process. The default booktype setting of the ND-3520A for double layer media is set to DVD-ROM.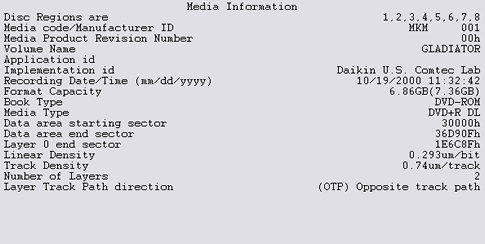 - Bitsetting
As usual, the drive supports booktype setting changes, but only for double layer media.