9. Writing Quality Tests - 3T Jitter Tests
NEC ND-3500A Recorder - Page 9
Writing Quality Tests - 3T Jitter Tests
On this page we present the 3T Pit & Land Jitter graphs when using various media burned at 32X and 48X writing speeds.
- 3T Pit results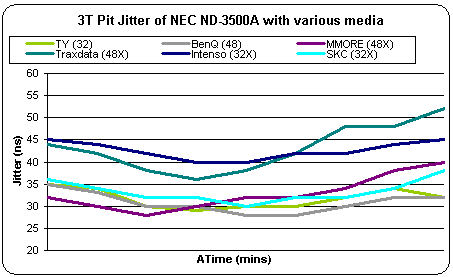 The highest 3T Pit jitter reached 53nsec (Traxdata), which is way above the Red Book limit (35nsec). Best results were achieved with BenQ CD-R and Taiyo Yuden media. Generally, the performance of the ND-3500A was not good, and this is a point that NEC should improve with future firmware releases.
- 3T Land results
The 3T Land results were also high, reaching a maximum of 55nsec, again with Traxdata media, while Taiyo Yuden and BenQ CD-R media once again produced the best results.
Former NEC drives reported better performance than the ND-3500A did here. On the other hand, when writing at 32X, recording quality was far better, but when writing at 48X, media quality was reduced. It should be noted that all discs were recorded at the maximum supported speeds.