3. BIOS settings
The BIOS is Award based and the main screen is what most users have used to:
By pressing F11 you can save bios settings to a "memory file", there are 8 available slots. This is useful since you can access different memory/FSB/CPU schemes. Setting several important settings, for example, disable C1E and speedstep. Another things you should keep in mind is that by pressing CTRL+F1 unveils the "Advanced" features of the motherboard, something that we feel should be there from the beginning. There are three settings with various effects in performance/stability of the motherboard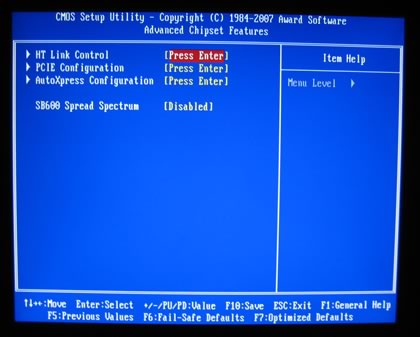 while there are several things to notice under PC Health Status tab
Ok, now to the most interesting part, the MB Intelligent Tweaker or (M.I.T). Here you control all the major functions of the board, like FSB, voltages and timings
In one screen you can set whatever you like. Let's notice the most important. First of all the HT Link can go up to 1GHz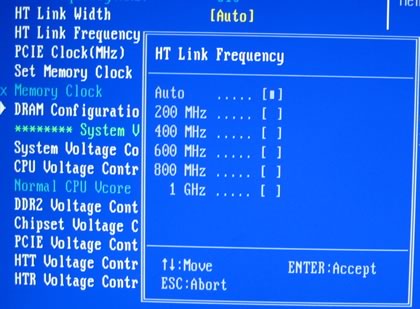 Memory Clocks can now be seen as it supposed to be, each different setting represents a different DRAM:FSB ratio. We didn't saw the 1066MHz option, we assume this will only be available with the Phenom AM2+ processors
DRAM timings are organized in another tab and they can be set to either manual or auto.
Several memory options are available and unfortunately, voltages have no absolute values but instead they are in the form of +0.xx. That's not good since you don't know the exact voltage that motherboard has selected for your CPU/subsystems. If you are using Gigabyte's Windows Easy Tune 5 software, you can view or set voltages from there, but again it would be ideal to have absolute values under the Bios. The voltages margins are not that high, we should expected more from this board:
FSB up to 500MHz (FSB 2000)

Frequency bus PCI-E to 200MHz.

Voltage CPU up to 1.9V
Voltage DDR2 up to +0.5 V (2.3V), thus somewhat short.
SB voltage to +0.4 V.
Voltage PCI-E to +0.45 V.
Voltage HTT link up +0.40 V.
- Installation
Using Everest Ultimate Edition 2007 we can get more information about the board:
Both North Bridge and South Bridge chipsets unveiled: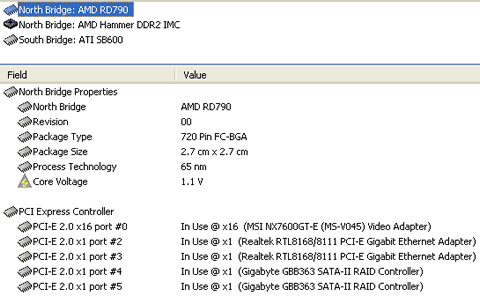 For all tests we used the latest available BIOS (F2B).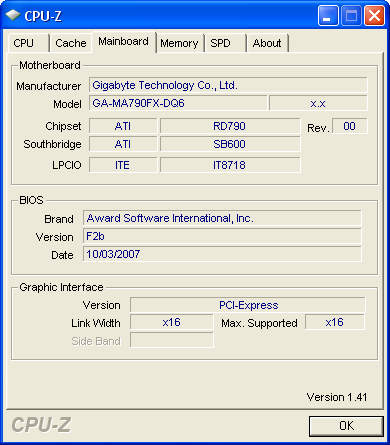 Let's see now how our CPU was identified using CPU-Z: