2. Inside the box
GA-MA790FX-DQ6 costs around 230 Euro (+shipping) , as found in several online stores. For sure this isn't a cheap motherboard and aims for power/enthusiast users. The retail package has all the needed logos to inform you about the new motherboard features:
Opening the big retail box, you can have an quick look at the board! The motherboard is placed inside a big protective plastic hard-shell that keeps it in place and well protected.
All included cables are showed below:
The manuals and included CDs
Below is a list of what's included in the retail package
4x Serial ATA cables
2x eSata (on two rear brackets)
2x USB (on two rear brackets).
I/O Shield
User's manual
2x Molex-Sata power cables
1x Floppy & 1x IDE ribbons
1x CD-ROM with drivers
Multi-Language quick install guide
Printed English manual
The board itself looks very "clean" as most parts can be identified easily. Lets see how the board looks like. Lets zoom at the CPU area.
The Gigabyte GA-MA790FX-DQ6 follows the design of previous AM2 compatible motherboards. We can see the AM2 socket with plenty of empty space around it. There are two major copper heatsinks that cool down the RD790 (North bridge) and the SB600 (South bridge) chipsets. There shouldn't be any major problem installing any CPU cooler with this motherboard, all of our tests were performed with the AMD's stock cooler.
The board has properly colored the memory banks in order to properly create Dual Channel memory setups. With the arrival of AM2+ socket processors, memory would be unleashed up to 1066MHz, allowing further performance improvement, compared to the previous AM2 socket. A green IDE port is available and near the SB600, we can find four (4) yellow colored SATA 2 connectors. There are two more SATA ports (for RAID configurations) at the left side, as shown in the following picture.
At the back side, we find more copper based heatsinks! This may provide additional cooling for standard set-ups, but the larger one will need to be removed for CPU cooling solutions requiring their own back plate.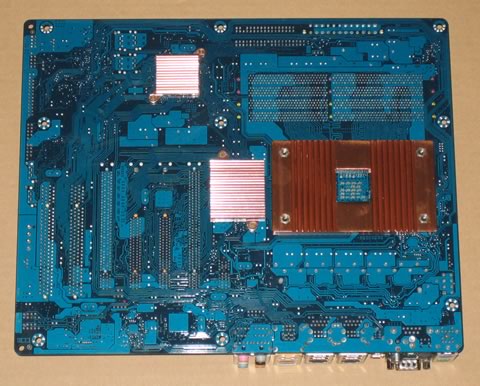 Now let's go the most interesting part, the PCI-e slots. As we mentioned earlier, there are four (4) PCI-e that can be used in various configurations:
CrossFire (x16 + x16)

Quad CrossFire

(8x + 8x + 8x + 8x)
Now the bad news. The PCI-e slots are very close and probably you'll need specific ATI based cards to perform Quad Crossfire configurations. It would be more convenient if those PCI slots were place in the middle in order to have more empty space in case of those big sized graphic cards.
There are several extra connectors for the back of the chassis in the retail package. The I/O panel has many connectors:
1 x COM port
1 x IEEE 1394a
2 x eSATA
2 x RJ45 LAN
2 x SPDIF out (coaxial+ optical)
6 x Audio Jacks
6 x USB 2.0
2 x PS/2 (Mouse/Keyboard)