Gainward Rampage700 2048MB GS
12. Final thoughts
The Gainward Rampage700 2048MB Golden Sample is one of the fastest graphics cards available today and it is addressed to all those who need the best possible 3D graphics performance from a single card.

Actually the solution is powered by two GPUs and could theoretically give you two times the performance you have with a single card. In fact, compared with the HD4870 series we got a 30-40% performance gain, which is still very good. On the other hand, compared with the Nvidia 260GTX series - which is also very fast - Gainward's solution was just 10 FPS faster in most cases and only at the higher resolutions.
Of course, the card showed its teeth with Crysis especially when the quality settings were set to the highest levels and at 1920x1200. It's massive processing power was enough to cope with the demanding graphics.
We did not have the chance to test the card in resolutions higher than 1920x1200, but judging from the available results, we can suspect that the Gainward Rampage700 2048MB Golden Sample would give a higher performance gains.
Since the graphics card produces produces tons of heat, the installed cooling system is huge, meaning that the card is high enough to occupy three empty slots at the back of your PC case.
The card is slightly overclockable, which means that you should not expect any major improvement in the performance.
Let's now have a look to the retail prices:
| | |
| --- | --- |
| Product | Retail Price |
| Generic Nvidia 8800GT 512MB | ~ €105 |
| Generic Nvidia 9800GT 512MB | ~ €112 |
| Generic Nvidia 9800GT 1GB | ~ €138 |
| Generic ATI HD4850 512MB | ~ €135 |
| Generic ATI HD4850 1GB | ~ €160 |
| Generic ATI HD4870 512MB | ~ €190 |
| Generic ATI HD4870 1GB | ~ €243o |
| Generic Nvidia 260GTX | ~ €235 |
| Generic Nvidia 280GTX | ~ €350 |
| Generic ATI HD4870 X2 | ~ €430 |
| Gainward Rampage700 2048GS | ~ €515 |
The Gainward Rampage700 2048GS costs around €500~530 (online prices). That's almost €70~100 more than a generic 4870X2 graphics card. In addition, it's approximately two (x2) times the price of an Nvidia 260GTX - which will probably faster than the 4870X2 series in SLI mode. We assume that the Nvidia 280GTX would be close to the Gainward model in terms of performance (we haven't tested it..), while it costs significantly less.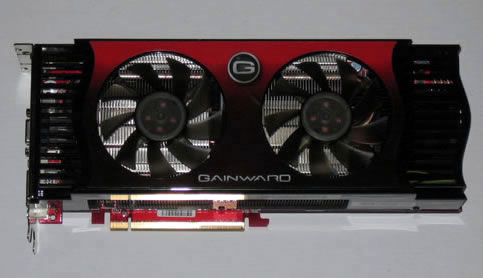 So it comes to what you really want from a graphics card and how much you are willing to spend. The Gainward Rampage700 2048MB GS is a pricey graphics card with top notch performance in most games, especially at resolutions of 1920x1200+.
Future ATI Catalyst drivers may further improve the performance so we are curious to see how the upcoming games and driver packs can affect the lifespan of the HD4870 X2 series. If your Xmas budget is high enough, adding a second Rampage700 2048MB GS graphics card would also be a a good idea .. Probably this would rock at resolutions of 2560+ provided that your monitor supports it :-)