4. Crysis (DirectX10)
Here are the results of the 3DMark 05, 3DMark 06 and of course the latest 3DMark Vantage benchmarks, which will give you a rough idea of what can you expect from the tested graphics card.
Despite the extra memory onboard, the Gainward GTX260 216 1792MB is not as strong as the XFX GTX260 XXX, probably due to its much lower clocks.
The ranking is not any different according to the the 3DMark 06 results: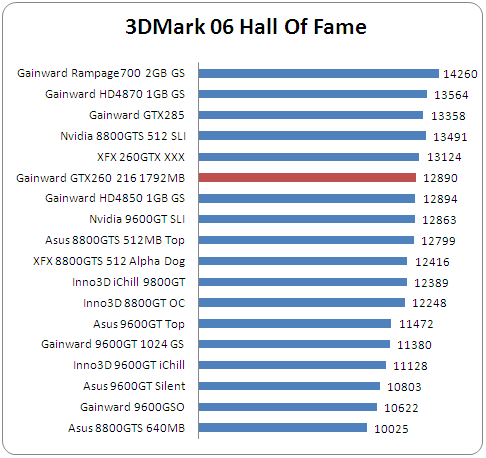 The 3DMark Vantage provides a clearer view about the card's performance at various resolutions. The Gainward GTX260 216 1792MB has an advantage over the XFX 260GTX solution, at the resolutions of 1280x1024 and 1680x1050. However its performance dropped at 1920x1200, where both competitive cards gave almost the same results.