1. Introduction, features
It is not the first time that we see the release of a new product that is actually a stripped down version of a more expensive model. Nvidia's latest desktop graphics card is the GTX275, which promises to offer a performance close to what you will get from the high-end GTX285 GPU but it is available in a more affordable price. But what happens if you overclock a GTX275 solution? Does this makes your GTX275 equivalent to the GTX285? Inno3D has released such an overclockable version of the Nvidia GTX275 series.
The Inno3D GT275 OC Edition is based on the Nvidia GTX275 series and comes with increased clocks for core/shader/memory in order to deliver a product that could compete even with the GTX285 series. The Nvidia GTX275 series are based on the 55nm manufacturing process and its overclocking margins should be significant, provided that the cooling system on board is also efficient.
Below is a table showing the differences among the Nvidia GTX 2xx series of chips:
| | | | | |
| --- | --- | --- | --- | --- |
| | GTX 295 | GTX 285 | GTX 275 | GTX 260 Core 216 |
| Stream Processors | 2 x 240 | 240 | 240 | 216 |
| Texture Address / Filtering | 2 x 80 / 80 | 80 / 80 | 80 / 80 | 72/72 |
| ROPs | 28 | 32 | 28 | 28 |
| Core Clock | 576MHz | 648MHz | 633MHz | 576MHz |
| Shader Clock | 1242MHz | 1476MHz | 1404MHz | 1242MHz |
| Memory Clock | 999MHz | 1242MHz | 1134MHz | 999MHz |
| Memory Bus Width | 2 x 448-bit | 512-bit | 448-bit | 448-bit |
| Frame Buffer | 2 x 896MB | 1GB | 8969MB | 896MB |
| Transistor Count | 2 x 1.4B | 1.4B | 1.4B | 1.4B |
| Manufacturing Process | TSMC 55nm | TSMC 55nm | TSMC 55nm | TSMC 65nm |
The Inno3D GTX275 OC edition is slightly overclocked compared with the typical Nvidia speeds. It core runs at 670MHz (+37MHz) Core, Shaders are clocked at 1404MHz (+0) and finally the memory closk is set at 1188MHz (+54MHz).
- Retail package
The Inno3D GTX275 OC edition retails for about €240 (including VAT).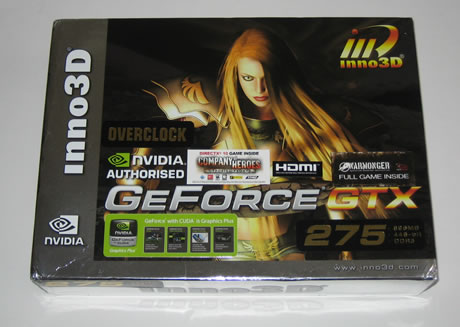 Two(!) retail games are included in the package. The popular 'Company Of Heroes Opposing Front' and the 'Warmonger', a game that its also offered for free over NVIDIA's web-site. Users will also find in the box a driver's disc, one molex-to-pci-e adapter, a DVI-to-HDMI adapter, a DSub-to-DVI-D adapter, a TV-out cable with HDTV support and finally an Internal SPDIF cable.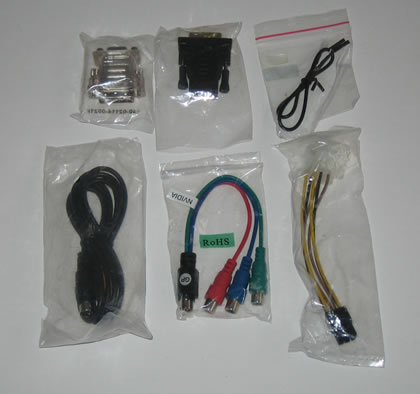 The Inno3D GTX275 OC is equipped with the generic Nvidia cooling system with a single only fan. However a special I-Chill edition will be also available soon featuring the same PCB and a different and more efficient cooling system.
The typical for the category dual DVI-D and the HDTV outputs are gold-plated for lower noise. Nice addition from the Inno3D.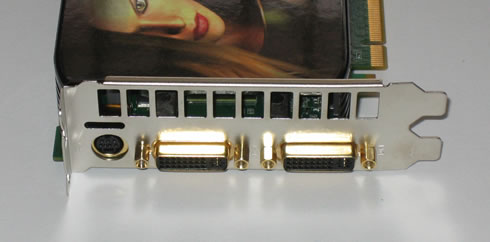 The card should be powered by two 6-pin power jacks in order to operate properly. You should also make sure that your PSU is powerful enough (600 Watts or more) before connecting this graphics card to your system.
Nvidia's SLI is possible with all currently sold GTX 2xx series, as long you are using two identical cards of course.
For all the tests, we used the latest Nvidia drivers (185.81) in order to get the highest possible performance, especially with the latest DX10 game titles.
According to GPU-Z, the GOU runs at 670MHz and the memory is clocked at 1188MHz:
The NvidiaBios Editor v5.0 software does not support this product, yet: