1. Features, specifications
AMD/ATI gave a direct hit to rival Nvidia with the release of the first 40nm GPU that powers the new HD 4770 graphics card. The new desktop graphics solution is the first ever available to take advantage of an energy-efficient 40nm GPU and most importantly, it aims at a very price-conscious part of the market, retailing for around $100.
Today we have in our hands the HD 4770 solution by Nvidia's partner XFX. The XFX ATI Radeon HD 4770 graphics represent an industry milestone in the advancement in gaming performance, being capable of widespread destruction with faster frame rates, higher resolutions and unparalleled speed.
The new card features third-generation hardware support for the latest DirectX 10.1 games. It is based on RV740 GPU and compared to the company's Radeon HD 4850 solution; it has 20% less stream processors (640) and 32 texture units (40 for the HD 4850). On the other hand, the new HD 4770 is equipped with GDDR5 memory clocked at 800 MHz, compared to the 1000MHz GDDR3 that we have seen with the HD 4850 model. The new GDDR5 memory offers an increased data rate of 3.2Gbps.

The HD 4770 is also faster in terms of engine clock (GPU), which is now 750 MHz.

In addition, the new 40nm GPU is more energy efficient compared to the 55nm chip of the HD 4850, resulting to a maximum board power of 80W (110 W for the HD 4850).

Besides these changes, the HD 4770 shares the same characteristics with the HD 4850, offering an overall compute power of 960 GFLOPs.
GDDR5 memory arms users with twice the data per pin at 750MHz than equally equipped GDDR3 cards. The processing power delivered by the XFX ATI Radeon HD 4770 promises to offer exceptional performance for physics, artificial intelligence, dual-stream picture-in-picture computing and ray tracing calculations.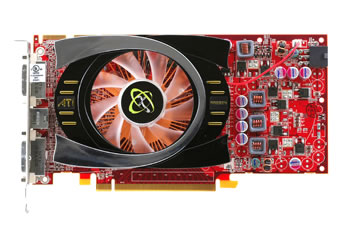 24x custom filter anti-aliasing (CFAA) and high performance anisotropic filtering contribute to higher realism, smoothing jagged edges and realistic graphics. And ATI CrossFireX technology seamlessly scales rigs to quad mode.
In addition, the ATI Stream Technology enables the XFX ATI Radeon HD 4770 to tackle the most GPU-punishing tasks like video transcoding even faster.
Below are several information about the HD4770 series directly from ATI. It's $100 retail price makes it directly comparable with the Nvidia 9800GT series.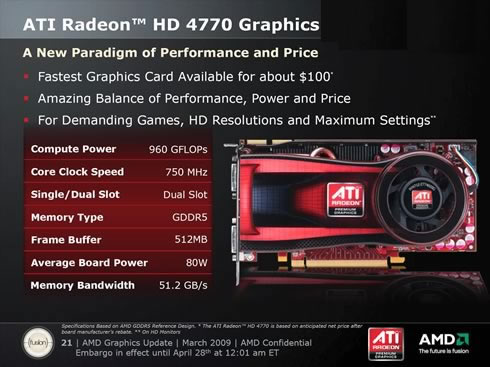 - Key Features
40nm process Technology (826 million transistors on 40nm fabrication process)
512MB GDDR5 memory
DirectX 10.1 support
640 stream processing units
24x custom filter anti-aliasing (CFAA) and high performance anisotropic filtering
Dual mode ATI CrossFireX multi-GPU support for highly scalable performance
PCI Express 2.0 support
Dynamic geometry acceleration
Game physics processing capability
ATI Avivo HD video and display technology

Unified Video Decoder 2 (UVD 2) for Blu-ray and HD Video
Accelerated Video Transcoding (AVT)
DVD Upscaling
Dynamic Contrast
Built-in HDMI with 7.1 surround sound support

Dynamic power management with ATI PowerPlay technology
ATI Stream technology