8. Benchmarks - Far Cry 2 (DirectX 9/10), Left4Dead (DirectX 9), StreetFighter IV (DirectX 9)
- Far Cry 2 (DirectX 9/10)
Far Cry 2 is one of the hottest game titles right now. The game supports both DirectX 9 and DirectX10 and its graphics engine is much lighter than the one used by the "Crysis" game title. As a result, most of the graphics cards graphic cards perform very well even at 1920x1200 with 16xAA/16xAF enabled.
At 1280x1024, Gainward's card performed very well no matter if we set the visual details to the "Ultra High" Increasing the resolution has a performance penalty as the resolutions increase. The DX10 makes it even more difficult for the GT240 to keep up with the requirements: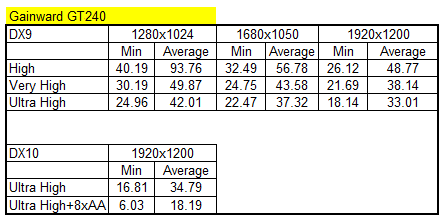 - Left4Dead (DirectX 9)
With the Left4Dead gaming title we used a custom timedemo and measured the performance of the graphics card using the the embedded console, for resolutions up to 1920x1200 with 16xAF enabled. and maximized all visual settings. The Gainward GT 240 gave a good performance, slightly lower than the 9800GT solution.
- StreetFighter IV (DirectX 9)
Here are two more benchmarks from the Streetfighter IV and the Unigine benchmark demonstrating the performance of the card in test.