1. About the Thermaltake Element Q
Thermaltake is one of the most popular manufacturer of PC cases in the world. Following the growing demand for HTPC aka small factor PCs used for watching movies at HDTVs, the company has introduced a new model for mini ATX users, the "Element Q". This compact -sized HTPC offers many expansion slots and can be powered by either Intel Atom boards - which very low priced and have good performance/price ratio- or by an Nvidia ION platform. The latter was also our choice for this review since it is designed for HDTV use.
Thermaltake claims that the Element Q operates quietly and that the onboard 200W power should give enough juice to power 2-3 storage devices inside, such as one 5.25" optical disc drive and two HDDs or one HDD and one floppy drive.
The device has an overall good finish and looks stylish with two operation leds on the front side among with all the standard jacks available in external cases:
Thermaltake is offering two models, the VL52021N2U and the VL52021N2E. Their main difference is that the e N2E model is equipped with a better power supply with Active PFC design and thus, it would cost you a little bit more. Besides that, both models look the same: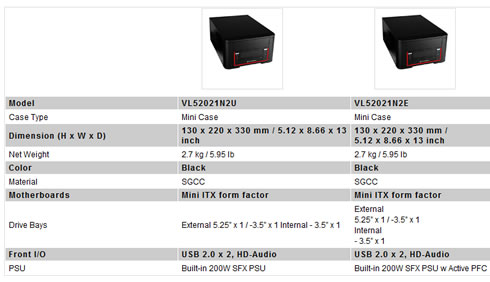 - Specifications
Model

VL52021N2U

Case Type

Mini Case

Dimension
(H x W x D)

130 x 220 x 330 mm /
5.12 x 8.66 x 13 inch

Net Weight

2.7 kg / 5.95 lb

Color

Black

Material

SGCC

Drive Bays

External
5.25" x 1 / -3.5" x 1
Internal
- 3.5" x 1

Motherboards

Mini ITX form factor

PSU

Built-in 200W SFX PSU

Front I/O

USB 2.0 x 2, HD-Audio