PatriotMemory Box Office Player
1. About the PatriotMemory Box Office HD Media Player
Portable media players have become a best selling product since they combine small dimensions, a lot of features and are generally easy to use no matter if you are not very familiar with such devices. PatriotMemory has released the "Box Office" product, a media player that promises to playback all of your media files and stream them through an v1.3 HDMI output at the highest possible quality, while it is also offering many networking options.
The Patriot Box Office is a media player that frees your digital media library from the constraints of a PC and bridges digital media to your home entertainment system to bring your entire media library to the comfort of your living room. Box Office is optimized for full 1080P HD video playback, includes the latest in video processing technology, and a Dolby®/DTS™ encoder to create a high-quality HD video and 5.1/7.1 channel surround sound experience on your home entertainment system.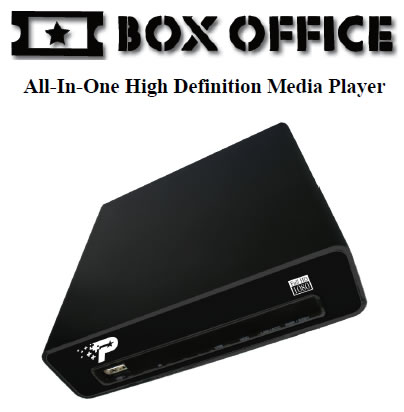 The device supports the most popular media formats (H.264, ISO, VOB, DivX, xVid, MKV, MOV, MPEG and more). Box Office offers a variety of ways to connect to your media library: 3 USB ports for any USB storage device, internal 2.5" hard drive (not included), UPnP streaming, 10/100 Ethernet connection and optional WiFi USB adapter.
Supports Full HD-video playback up to 1080p
Supports Dolby® Digital and DTS™ surround sound
Expandable internal storage via 2.5" SATA SSD/HDD
Supports video playback via UPnP network streaming
Browse for shared videos, photos and music from networks and USB
Flash Drives and USB external storage
Supports file transfer between HDD, USB, Network PC and NAS
Built in P2P file download management
File formats supported
Audio Decoding - WMA, MP3, Real Audio (RA)
Image Decoding - JPEG, BMP, PNG
Video Decoding - *[MPEG-1] MPG/MPEG/DAT
*[MPEG-2] MPG/MPEG/VOB/ISO /IFO/TS/TP/M2TS
*[MPEG-4] MP4/AVI/MOV
*[H.264/AVC] MKV/TS/AVI/MOV/M2TS
*[DviX 3/4/5/6, Xvid] AVI/MKV
*[WMV9] WMV
*[FLV] FLV
*[Real Video 8/9/10] RM/RMVB support up to 720p
Subtitle - SRT, MicroDVD SUB, SSA, SUB/IDX
Works with any USB storage devices - Play content from most USB drives or any portable device that can be recognized as a mass storage device.

Expandable internal storage - Use the internal 2.5" SATA drive slot with any SSD/HDD to increase the storage capacity for your expanding media library.
Full HD video playback and navigation - Up to 1080p - Experience the highest quality HD video possible and crystal clear audio with Dolby and DTS surround sound. Use the included remote control to navigate and control your media collection with ease.

Network Streaming - Stream media files through your wired or wireless (optional wifi adapter required) home network from desktop PCs.

File transfer - Copy or transfer files between connected USBs, the internal hard drive (not included), network PCs or other network attached storage (NAS) devices.

PC less download management - Download files via P2P sharing for easy access to media from the web.

Universal Plug and Play (UPnP) - Support for UPnP streaming on UPnP capable devices such as Sony Playstation and Microsoft Xbox

Picture viewing - Create custom slide shows and add your own background music to create a truly unique experience. Zoom and pan on each image to view hard to see details.

Movie preview and playback - Quickly preview video files prior to playback. Once selected, control movies at your own pace... Fast forward, rewind, pause, zoom, and pan. Supports subtitles.

Music playback - Listen to your entire music library with fast forward, rewind, pause, repeat and shuffle options.

HDMI and composite video connections - The High-Definition Multimedia Interface (HDMI) port lets you connect to the highest quality HDTV or home theater. Additional composite (RCA) outputs ensure compatibility with virtually all television sets.

File Formats Supported Music - WMA, MP3, Real Audio (RA) Graphics - JPEG, BMP, PNG Video - [MPEG-1] MPG/MPEG/DAT, [MPEG-2] MPG/MPEG/VOB/ISO/TS/TP/M2TS, [MPEG-4] MP4/AVI/MOV, WMV9, FLA, [H.264/AVC] MKV/TS/AVI/MOV/M2TS, [DviX 3/4/5/6, Xvid] AVI/MKV, [Real Video 8/9/10] RM/RMVB

Inputs: 10/100 Ethernet, 3x USB 2.0 ports & internal 2.5" SATA HDD connector (HDD not included).

Outputs: HDMI, composite A/V, S/PDIF

System Requirements: External USB storage device or internal 2.5" SATA SSD/HDD with supported video or audio content stored on it. Standard or high definition television with HDMI or composite video connections.