1. About the Gainward Bliss 9600GSO
Nvidia releases many different lines of products, from the high end GTX series down to GSO, the budget ones. Today we take a look at highly overclocked card based at Nvidia's 9600GSO platform, the Gainward Bliss 9600GSO 768MB edition.
The 9600 GSO is supposed to sell for less than the 9600 GT and offer lower performance in 3D applications. However, we have to whether this claim is true provided that the 9600 GSO has more shader processors than the 9600 GT series. The GSO series are not exactly new to the market. They can be considered as "improved" versions of the GS series, like the 8800GS we have seen earlier this year.
- Gainward 9600GSO 768MB Edition
Gainward introduced a high-performance hardware design powered by NVIDIA Geforce 9600GSO integrating 768MB/192Bits High Speed DDR3 Memories: Bliss 9600GSO 768MB. Equipped with 600MHz on the core clock and 900MHz (DDR 1800) MHz on the memory clock, Gainward Bliss 9600GSO looks promising and its 768MB memory (192bits width) interface could allow the graphics processors to achieve higher resolutions without running into memory capacity bottlenecks in games.
The Gainward Bliss 9600GSO 768MB also supports two monitors simultaneously, enabled by the NVIDIA nView Multi-Display Technology for office applications. High performance Low noise Fan Cooling systems keeps the Graphics card cool.
- The package
The Gainward 9600GSO retail package (Part Number #471846200-9320) is small. The card retails for 147 Euro, obviously aimed for the middle end-users. The " Golder Gainward Sample" logo placed on the box indicates that the card is pre-overclocked.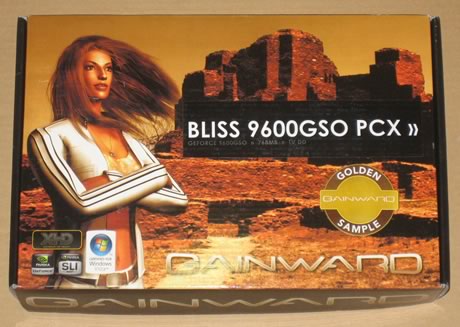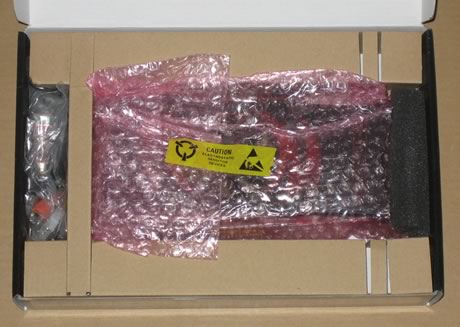 The Retail package includes the usual cables and adapters, one DVI to D-Sub adaptor, an HDTV-out cable and one power cable. There are also two discs with drivers and utilities, and a quick printed manual. No retail game is included.
The Gainward 9600GSO has its own cooling system, different than other 9600GSO cards. The cooler adds some extra thickness to the device meaning that installing the card would occupy two slots in the rear panel of your PC case.
Two DVI-D outputs are available, meaning that you will need a 6pin power supply to operate this graphic card.
The bottom side of the card is covered by an extra metal plate that absorbs extra heat.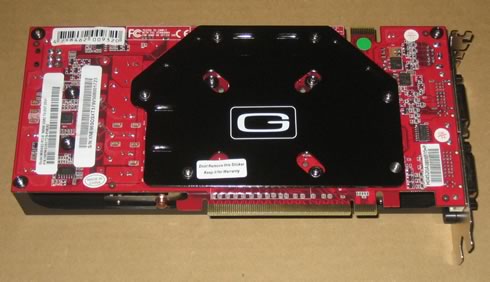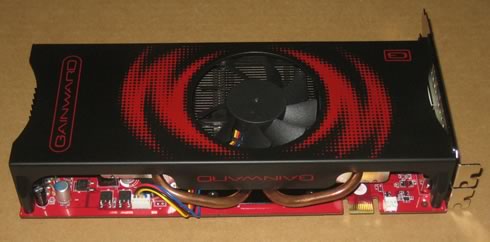 The GPU core runs at 600MHz, the memory at 900MHz and the Shader clock at 1500MHz. More information are available in the GPU-Z screenshots below.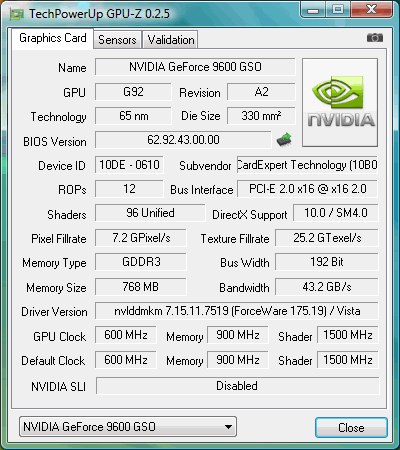 | | |
| --- | --- |
| Product Name: | Bliss 9600GSO 768MB |
| Barcode: | 471846200-9320 |
| GPU: | NVIDIA GeForce 9600GSO |
| GPU Clockspeed: | 600MHz |
| Memory: | 768MB DDR3 |
| Memory Clockspeed: | 900 (DDR1800) MHz |
| Pixels per clock (peak) : | |
| Bandwidth: | 40.8GB/sec |
| Ramdac: | 400MHz |
| Bus: | PCI-Express |
| Cooling: | 2-Slot Fan |
| Video-Features: | Extreme HD-Output |
| Connectivity: | DVI-I + DVI-I |