External USB Slim Recorders Comparison
27. JVC 16X DVD+R
The next media comes from JVC 16X DVD+R with YUDEN000 T03 media ID code.
All tested drives recognized the JVC 16X DVD+R media.
After the burn process, we tried to read the burned disc with the same drive and wrote down their average reading speed.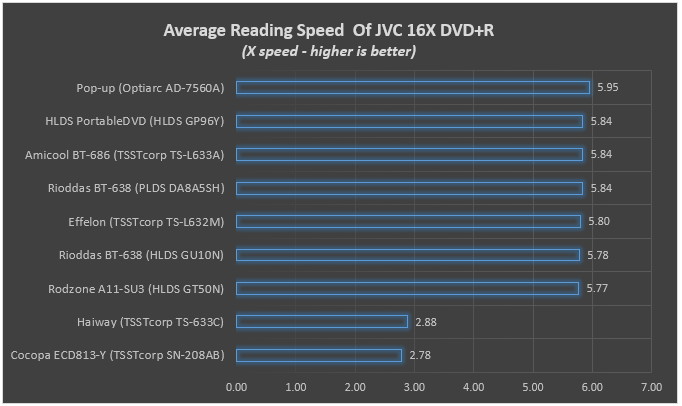 The Pop-up (Optiarc AD-7560A) has the higher reading speed with the JVC 16X DVD+R with 5.95X... After many hours measuring all discs we have our burn quality results.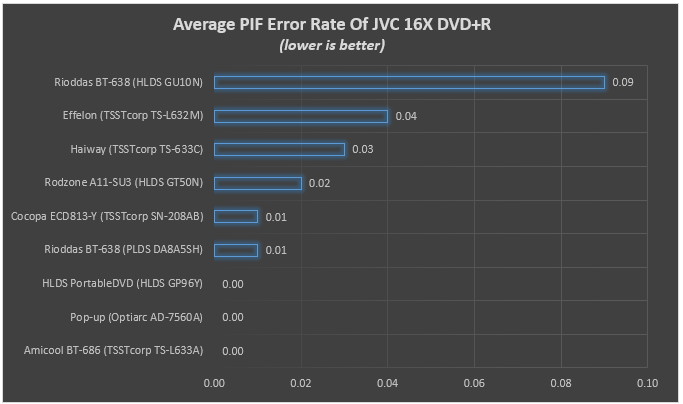 The drives with the lowest PIE/PIF error rates are expected to get higher score points even they burn slower a disc. After all we all want perfectly readable discs.
With the JVC 16X DVD+R media, the HLDS PortableDVD (HLDS GP96Y) managed to produce the lowest error rates among all tested drives so it got the first place with 8.40 points!