CPU Coolers Roundup For LGA1366 April 2009
1. Silent Spirit by Gelid - 1
Our CPU coolers roundup for April includes many solutions for both entry level and power users that can keep your Intel LGA1366 system cool and also add some space for overclocking. The models we are presenting today include Noctua's NH-U12P SE 1366, Scythe's Kama Angle and Mugen 2, XigmaTek's Cobra D984, Nepartak S983 and HDT-S1283 models, Gelid's Silent Spirit as well as a new solution by ProlimaTech, the Megahalems.
With start with the usual presentations of each CPU cooler and later on we will run some benchmarks related to cooling efficiency.
- Gelid Silent Spirit
| | |
| --- | --- |
| Manufacturer | Gelid |
| Model | |
| Price | |
| Category | Entry level users |
Gelid Solutions recently made its appearance in the market of CPU cooling solutions. Their first ever model is the 'Silent Spirit' and we hope that the device will be as good as its promising name.
The Silent Spirit can be used in a variety of platforms including Intel Sockets 775 and 1366, all Pentium D/ Pentium 4, All Celeron D, all Pentium Dual-Core/ Extreme and all Core 2 Extreme/ Core 2Quad/ Core 2 Duo. Of course AMD sockets 754/ 939/ 940/ AM2/ AM2+/ AM3 are also supported.
The top-flow cooler "Silent Spirit" follows an open frame structure concept whereby both design and dimensions have been improved to eliminate humming and buzzing noises while maintaining a compact overall size. Gelid has chosen to equip the device with a 92mm fan for silent operation and high airflow. The intelligent PWM control allows users to set the fan speed in their BIOS accordingly. In addition, the anti-vibration fan mounts are made of high quality rubber for a long life span even during high temperatures.
By calculations and proven by prototype tests during the development stage, GELID's product developers concluded that the optimal distance between the upper holding rib and the Silent Spirit fan blade is around 5 to 5.5 mm to achieve minimum turbulent flow caused by the upper support rib at minimum height.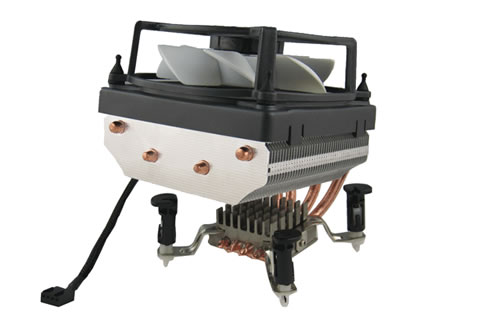 In addition, the optimal distance between the side support rib and the outer diameter of the Silent Spirit fan blade is around 9 mm to achieve lowest turbulent flow caused by the side support rib.
The location of two cable guards must be especially designed to protect the fan impeller wedge by cables and provide max space for incoming air with minimum resistance from the fan holder structure.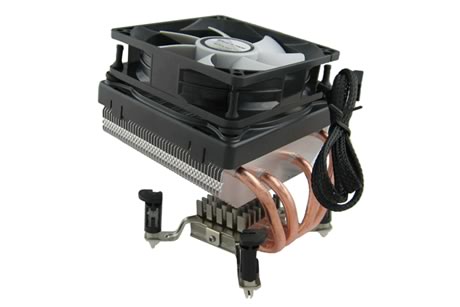 Thanks to the GELID intelligent PWM control technology, it is possible to keep silent operation at low CPU temperature and to accelerate the fan speed when the CPU temperature becomes higher.