CPU Coolers Roundup For LGA1366 April 2009
7. Cobra D984 by XigmaTek
| | |
| --- | --- |
| Manufacturer | XingaTek |
| Model | |
| Price | |
| Category | Entry level users |
We welcome XigmaTek to this CPU cooler roundup. The first product we received from the company is the 'Cobra D984', a medium- sized cpu cooler . Instead of a copper base, Cobra D984 is designed with both Patented "Fin connected to HDT base" and "H.D.T. Technology" to provide efficient cooling performance. The Direct Heat-Pipe CPU cooler does not use any cooper base making it is light weight.
In addition, instead of screws or clip to install fan on fin, Cobra D984 uses patented Anti-vibration rubbers absorb fan vibration.With 4pcs Φ8mm heat-pipe, PWM fan and Push-pin/Clip for Intel & AMD application design, Cobra D984 provides not only cooling high performance but also easy installation .
The included manual is brief but a good read. Mounting clips are also available for each platform.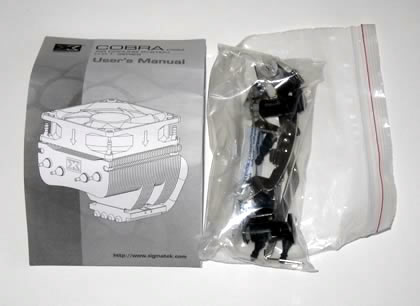 Below you see the Direct Heat-Pipe "base" of the cooler, where the four Φ8mm heat-pipes are directly in contact with the CPU.
The 90mm fan is strong to produce strong of air flow (1200~2800 R.P.M.).
In order to use the XigmaTek cpu coolers with an LGA1366 platform you should buy the corresponding mounting clips, which offer better installation options than the standard Intel clips.
- Installation
We used the Xigmatek Crossbow LGA1366 kit for the installation of the cooler in our X58 system.
First you need to secure the mounting clips on the base as the picture shows:
Then you have to place the backplate under the motherboard and secure the cpu cooler using the with the included screws/springs.