CPU Coolers Roundup For LGA1366 April 2009
2. Silent Spirit by Gelid - 2
The Gelid Silent Spirit comes in a medium-sized box. The cooler can be purchased online for about $30.
In the box everything well organized and secured in a plastic shell:
Unwrapping the cpu cooler, we can finally see how exactly it looks like...
A full copper base is attached to four heatpipes that go up to the aluminum fins. On the top side there is a 92mm fan. According to the Gelid Solutions web site, everything is well calculated to give users the best possible performance for the CPU and also the motherboard components nearby the CPU area, as well as low noise.
The package also includes a printed installation manual and two clips that should be used for installing the cooler on an AMD system.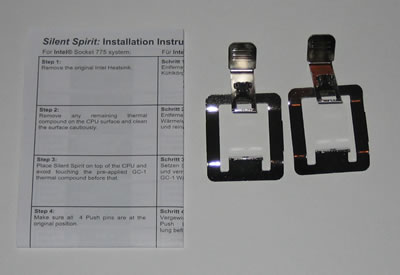 The LGA-1366 mounting clip kit is is sold separately and its design is not different than what Intel has been following for several years now:
The installation is fast easy and just needs you to mount the included clips on the base. You don't have to take your motherboard out of the PC case since you don't have to do with anything new here. The procedure is not any different that what you may have done in the past with your old Intel stock cooler.
The base is also covered by Gelid's GC-1 thermal compound, which has some interesting specifications by the way.