CPU Coolers Roundup For LGA1366 April 2009
4. Megahalems by ProlimaTech
| | |
| --- | --- |
| Manufacturer | ProlimaTech |
| Model | |
| Price | |
| Category | Power users |
ProlimaTech is a new company and its first product is the 'Megahalems' CPU cooler. This is an impressive big tower cpu cooler with high specs and very good price. It's unique design make it easily recognizable, with two towers of fins next to each other. According to the company, the minimal air resistance between fins allowing best balance between noise and performance in range of 800-1200RPM. The heatpipes are are lined up in a straight line to prevent air back draft allowing air to easily pass through the heatsink body. The wide fins used have a mathematically calculated thickness to maximize best air-to-surface cooling rate.
The cooler can be installed in socket 775 and 1366 systems.
As we can see the product packs only the basics required for installing the cpu cooler into your motherboard. There is not any kind of fan. For our tests, we used the very good NF-P12 120mm fan from Noctua. The Noctua fan gives a good ratio at performance/noise but we assume that a faster and noisier fan would give even better results.
The product has a really clean design and looks like a power transformer :) The two tower design with U shaped heatpipes will be probably enough to do the job just fine.
Six heatpipes (6mm) are used to get the heat out of the big base and conduct it to the numerous aluminum fins for quick heat dissipation.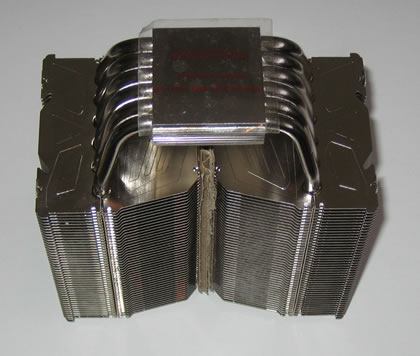 - Installation
Installing the MegaHalems product requires some of your time. First you have to remove the motherboard from the PC case. Then you have to place the backplate as you can see below: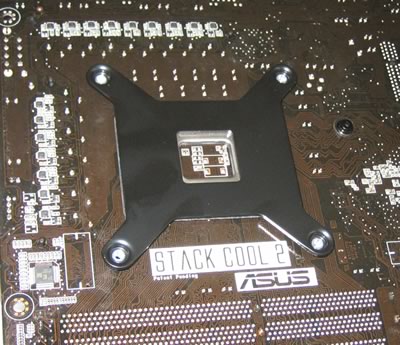 The backplate is secured on the motherboard with four double threaded bolts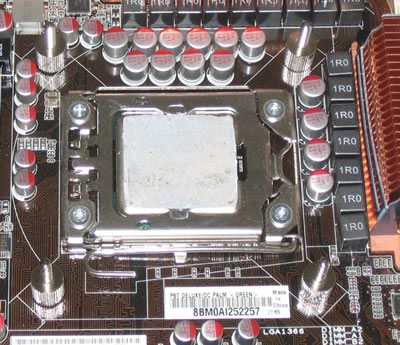 The next step is to place the two mounting plates over the bolts and secure them with the locking nuts:
Finally you should place the center plate and secure the whole structure using two additional screws. The procedure might sound long but it isn't; in the end the installed cooler feels very solid.
The 120mm fan can be very easily installed using the included metal clips. In fact due to the cpu cooler design, its also easy also to install even two fans.