CPU Coolers Roundup For LGA1366 April 2009
8. Nepartak S983 by XigmaTek
| | |
| --- | --- |
| Manufacturer | XingaTek |
| Model | |
| Price | |
| Category | Entry level users |
The Nepartak S983 by XigmaTeK has a typical design also met in other CPU cooling solutions. Again, the cooler follows the Direct Touch (H.D.T.) design, it has 3 Φ8 mm heat-pipes and anti-vibration rubber for fan. The cooler also comes equipped with a 92mm PWM fan.
The printed manual is small but good to read. In the box you will also find mounting clips for Intel/AMD platforms. By default the XigmaTek cpu coolers use Intel's standard mounting method, which is convenient and easy to follow.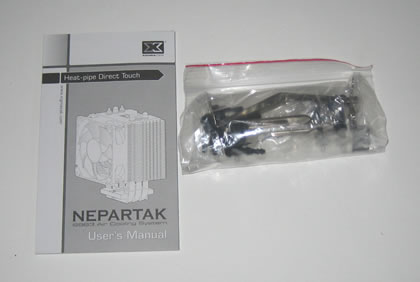 The cooler is placed into a hard plastic shell.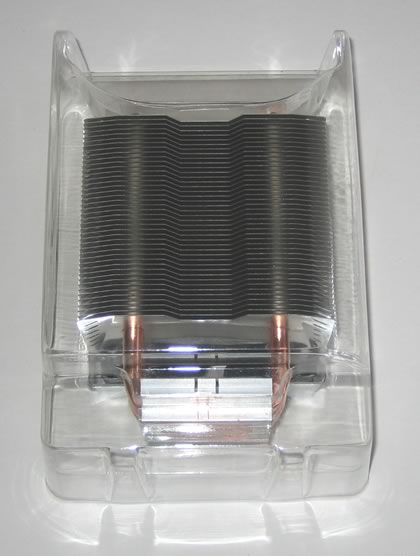 The three Φ8mm heat-pipes are in contact with the CPU and conduct the produced heat directly to the aluminum fins.
The 92mm fan can operate at 1200~2800 R.P.M., which should be enough to help aluminum fins dissipate the produced heat.
If you are planning to install the XigmaTek cpu cooler in an LGA1366 system, you will need to buy the extra mounting clips:
- Installation
For our installation process we used the Crossbow LGA-1366 mounting kit. The procedure is the same we followed with the installation of the D984 model in the previous page.
The cooler's height is good enough to fit even in medium-sized PC cases:
It would be nice if XigmaTek Nepartak S983 allowed the installation of a t second 92mm fan.
The compact size of the cooler makes allows you to add/remove the nearby memory modules easily, even when the cooler is already installed.