Corsair Dominator TWIN3X2048-1800C7DFG
1. Features, installation
Corsair as a well known and respected memory manufacturer that recently released a new series of DDR3 memory with the highest rated specification and a very low CAS latency. The new TWIN3X2048-1800C7DF G product promises ultimate performance and high overclocking margins. Let's find out what this memory is capable of when paired with an Asus P5K3 Deluxe WiFi Edition motherboard.
- Corsair TWIN3X2048-1800C7DF G
The Dominator Series TWIN3X2048-1800C7DF G is a 2048 MB kit of DDR3 SDRAM DIMMs built using Corsair's latest high performance heat sink with Dual-path Heat Xchange (DHX) technology coupled with a Corsair Airflow Fan. This part delivers outstanding performance in the latest generation of dual-channel DDR3-based motherboards. It has been tested extensively in popular DDR3 motherboards to ensure compatibility and performance at its rated speed. This memory has been verified to operate at 1800MHz at latencies of 7-7-7-20 at 2.0V VDIMM.
The DOMINATOR family of memory represents the ultimate in performance technology engineering from Corsair. The Dominator was designed to have the highest performing IC maximum overclocking capability and efficient DHX cooling – all the while being stable and reliable.
Heat Dissipation
Heat is the enemy of your computer's key components. And the more you tweak components for performance, the more heat is generated. Heat will slow down your system and impact long term reliability. With traditional DDR2 memory, the standard method of chip packaging involves a BGA (Ball Grid Array). In a BGA, small balls of solder, organized as a grid, are the leads that connect the device to the module circuit board. A Micron Semiconductor study shows that in a BGA memory device as much as 50% of the heat generated by the chip is actually conducted into the circuit board. Since traditional heat sinks are only attached to the front surface of memory chips, there's no easy thermal path for the heat coming from the back of the chips.
DHX - Maximized Performance, Minimized Heat
Corsair's engineers have developed a unique technology that maximizes heat dissipation while improving reliability, even in the most extremely overclocked memory module. Dual-Path Heat Exchange (DHX) technology utilizes two methods to effectively remove heat from the memory circuit board - Convection and Conduction.
Optional AirFlow - Extra Cooling for Extreme Overclocking
The optional Airflow fan unit contains three 40mm tachometer-controlled fans to provide impinging airflow to the memory subsystem. With the moderate RPMs required to provide adequate forced air, the Airflow fan is nearly silent. The fan easily clamps onto most motherboards.
- Main features
2048 Megabytes of DDR3 memory
Two matched CM3X1024-1800C7D G modules
Using DHX technology providing maximum cooling
Comes with Airflow Fan for maximum thermal transfer
100% tested at 1800MHz in high performance DDR3 motherboards
Lifetime warranty
Module Size: 2GB kit (1GBx2)
Each module pair is tested together at 1800MHz
Tested together at 1800MHz, Vdimm = 2.0V, at latency settings of 7-7-7-20 on ASUS P5K3
motherboards
Must use sockets DIMM A2 and DIMM B2 ("black sockets") to achieve this performance
SPD programmed at: JEDEC standard 9-9-9-24 values at 1333MHz
- Retail package
Corsair provided us the retail package of TWIN3X2048-1800C7DF G. The retail price of the package is around $540~781, depending your location and currency... The memory modules are carefully packaged inside a common carton box.
with several protecting foam sheets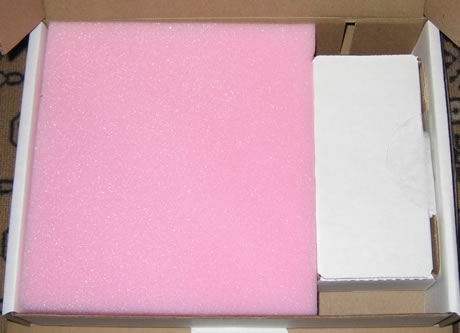 Finally, we can see the DDR3 memory modules, in right inside the white box we can find the optional memory cooler.
Removing the memory modules from the retail box, we can have a clearer view. From front, there's the Corsair logo along with all the important specifications, the memory size, the DDR3 rating speed and of course CAS latencies and suggested memory voltage. The black aluminium heatsinks on the outside are designed to absorb the heat from the surface of the memory modules:
At the back, there are two logos,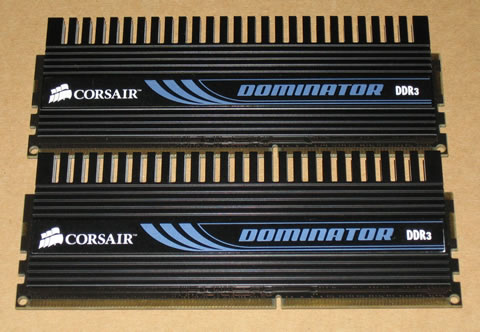 The Corsair Dominator Airflow can be installed in all DDR2/DDR3 memory types and uses three almost noiseless 40mm fans to improve heat dissipation.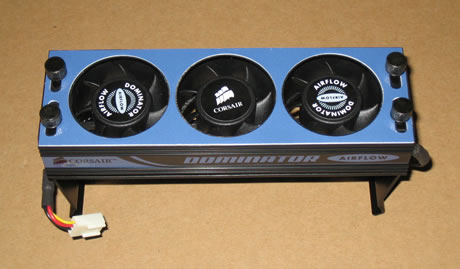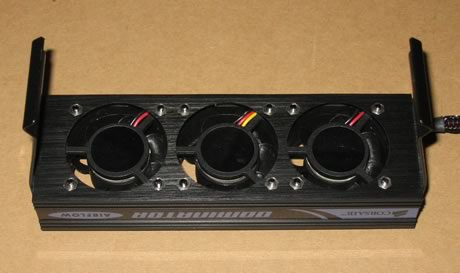 Here is how our test system looks like after the installation of both Corsair Dominator DDR3 memory modules and the optional cooler:
After installing the modules and using CPU-Z v1.41 we have more information about the memory. Corsair is probably the first manufacturer that supports Intel's XMP profiles for 1800 rating speed. Of course there are present the standard JEDEC timings embedded for 592 and 666MHz accordingly: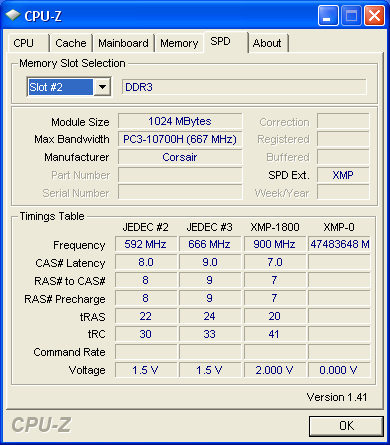 Extreme Memory Profile (XMP) technology comes from Intel. Extreme memory profiles (XMP) are SPD (Serial Presence Detect) settings that are activated once memory modules are installed into a system with a mainboard that supports such settings. It is projected that XMP will be supported by mainboards based on Intel X38 chipset and will allow memory modules to operate at higher clock speeds with aggressive latency settings in order to provide extra performance.