12. Conclusion
The Biostar TA690GAM2 is the first motherboard from Biostar that is based on AMD's 690G platform. The platform includes full support for AMD processors and at the same time, an ATI X1250 integrated graphics chipset. With Micro ATX format, a low price of €74 and an HDMI output, it seems the perfect choice for building a home theatre PC or simply a budget desktop system.
In our tests, the TA690GAM2 was noticeably faster in the memory tests, compared with other IGP chipsets from VIA and Nvidia. In the CPU tests, it was only marginally slower than the fastest of the three motherboards. There are many options available from the BIOS to set memory timings and even to OC the system, even though you probably don't want this board for overclocking, but instead prefer it to be stable and offer good performance.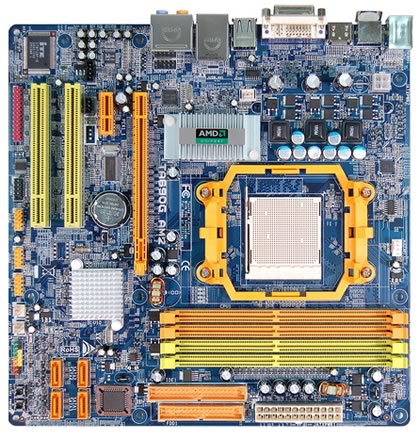 The board itself is of good overall design and there is plenty of free space around the CPU area, typical of AMD processors. There are four SATA2 connectors for optical/HDD drives, and both IDE and floppy connectors. Reset and power buttons are also included on the board itself which can come in handy.
Passing to the IGP X1250 chipset's performance, don't expect anything fancy, at least not in the 3D gaming area. The graphics chipset is not designed for this, even though it supports DirectX 9.0. As AMD says, it offers full Aero VISTA experience, and we confirmed this. So there should be no worry about desktop performance. The most interesting part, video performance, the IGP X1250 proved to be a very good solution, being able to playback with PowerDVD, even Blu-Ray content, with some glitches however. We tried to build a low priced home theatre with HDMI output that should be able to playback most of our Video content and it did. Blu-Ray/HD-DVD shouldn't be a problem for the IGP X1250 if more memory is used or a higher powered CPU and Windows XP.
Ending our presentation, we have no problems recommending this board to anyone who wants a low priced motherboard, with home theatre capabilities and features. It costs €75, has HDMI output and the IGP X1250 will be futureproof for quite a long time. High-Definition content playback is possible, although with the most basic components you might experience some skipping when the bitrate exceeds 25Mbit/sec under Blu-Ray format. We feel that the Biostar TA690GAM2 is a very good product and earns our Editor Choice Award.