25. Firmware upgrade - BCDB
Right before the release of the BenQ DW1655 Full Review by CDRinfo, BenQ released a firmware upgrade from BCAB to BCDB. The firmware notes are not available yet, since it has been provided to us straight from the tech department and is not yet under public distribution.
We patched our review drive with the latest firmware and we repeated some of the burnings that did not report good quality writings. Hence, we will be posting the results of the BCDB firmware and DW-1655 in this page with three media : Prodisc S05 -R 16X, Optodisc -R 8X and Ridisc -R 8X media. We also repeated the reading of the 541 test disc but we didn't notice any difference.
Quality Scans
Optodisc-R 8X @ 8X
Ridisc-R 8X @ 8X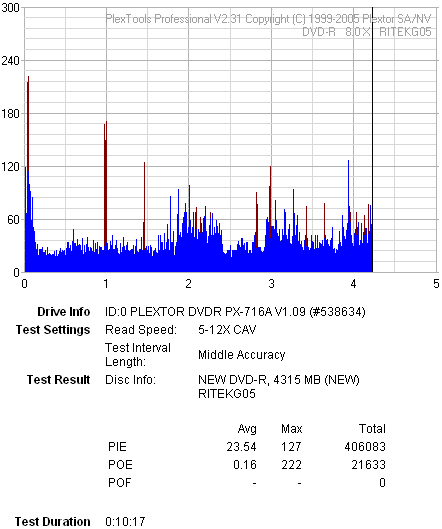 Prodisc(S05)-R 16X @ 16X
Even though the quality of the Optodisc and Ridisc media was greatly improved, the Optodisc media still retains its high error values, reporting PI higher than the 280 acceptable limit. Ridisc media was readable with the Plextools Pro Q-Check utility. The quality of the Prodisc media was also improved, with error values close to the 280 limit.