13. Overclocking
1st Test
In our first test, all motherboards must achieve the highest overclocking speed with all the BIOS settings left to Auto. This means that each motherboard must calculate how much voltage the CPU needs in order to be absolutely stable while operating in higher clock speed. The memory dividers and the memory/FSB/MCH voltages are also left to Auto. In other words this is the easiest overclocking you can do. For this test we use a retail Intel E6600 with it's CPU multiplier locked at x9 and we raise the FSB until we get a stable system (Orthos2004+PovRay running).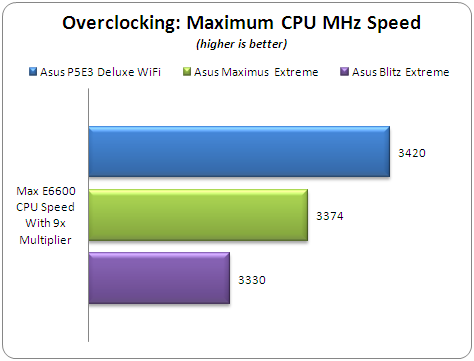 Keeping the CPU multiplier at 9x, the Maximus Extreme reached 3374MHz stable with Orthos/PovRay stretching the system. We noticed that with an earlier BIOS (0802) installed, the overclocking performance was somewhat higher...
2nd Test
Apart from the maximum overclocking speed, we have to examine the maximum possible FSB frequency with the specific CPU installed. Again all BIOS settings are left to Auto and the CPU multiplier is dropped to 6x. The memory timings and the dividers are also left to auto. An additional 8cm fan was used to further cool the whole system.
The Asus Maximus Extreme and P5E3 Deluxe gave similar performance with 490MHz FSB.
3rd Test
Our final overclocking test focuses on how good a motherboard is when the memory is overclocked. In this test we used one pair of SuperTalent's DDR3-1600CL7 with the following settings:
Timings: 8-8-8-24-2T
Voltage: 2.25V
FSB:DRAM divider: 1:2
Additional 8cm rotating fan
All other BIOS settings left to Auto
We had a hard time to make the system boot under Windows when the memory was overclocked. As a result, we had to skip this test and run it again with a newer BIOS installed.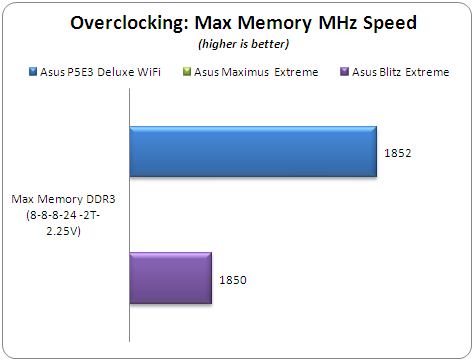 - Overclocking stability
During our overclocking attempts, we noticed that after some overclocking failures, the system didn't POST back and we had power off/or use the clr CMOS button to get everything back in order. While this is the way things are supposed to work, we didn't have so many problems with Asus P5E3 Deluxe WiFi Edition.