Vantec NST-530U2 External Enclosure
2. Package
Vantec sent us the NST-530U2 retail package, which can be found at the retail price of ~US$40.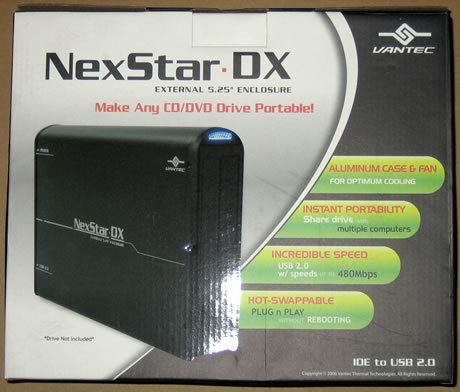 This is probably the highest price you will find for this category. The package is very small and includes:
The external case
A Driver Disc
A Power Cable
A USB Cable
A printed User Manual
Mounting Screws
The device is made of aluminum alloy and has a black finish. On the top of the case, you will see the NexStar-DX logo, and towards the back edge, the Power and USB2.0 labels indicating where to plug-in the corresponding cables.
Removing the top black aluminum cover, reveals the case internals which comprises the interface board with the IDE, audio and power cables. The case fits any standard 5.25" optical disc drives (CD-RW/DVD):
On the rear, there are the USB2.0 input port, mains power input, the on/off switch, and lastly the exhaust fan:
We installed a BenQ DW1620 drive in our case, which is a full size 5.25" drive. You have to install the drive from the front opening first, and then connect the IDE, audio and power cables:
Once in place, on the side are the mounting holes for securing the drive.
And finally, replace the cover by sliding on as arrow shows below.
On the rear, you have to screw two black screws to keep the back-plate in position
With the installation finished, the case is now ready for action!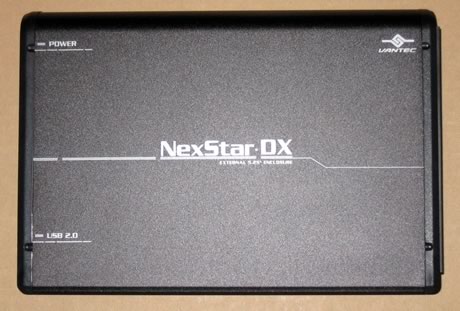 Our new external case looks very sleek. It has a nice design and goes best a total black coloured drive.
The main light on the front right, is blue and shines impressively in total dark. Modders will love this.