Palm GPS Navigator - Smartphone Edition
1. Introduction

I love being an early adaptor. I really love the product previews I get to see before launch date. Palm was very generous in giving me one of the first looks at their new GPS Navigator Smartphone Edition which is just being released.
How does this GPS option made especially for the Treo line work? Is it something to run out and purchase?
Overview:
I have been testing this brand new GPS unit and software for about three weeks now. The GPS is made by Palm and it is a Bluetooth GPS receiver. It comes with a car charger, a very nice window or dash mounted suction cup/holder for the treo and a brand new version of the wonderful TomTom Navigation software.
Palm has always been about simplicity. This GPS package is designed to follow in that tradition. Everything you need is right here. Setup and use (which I will detail below) could not be easier and the documentation is quite extensive if there are any problems.
One of the nice features of this package is that it is truly made for the Treo line. The software is available on a DVD but also pre-loaded on an SD card. For kicks, I tried to install it on my Axim - but to no avail - this only works with Treos.
What's in the box?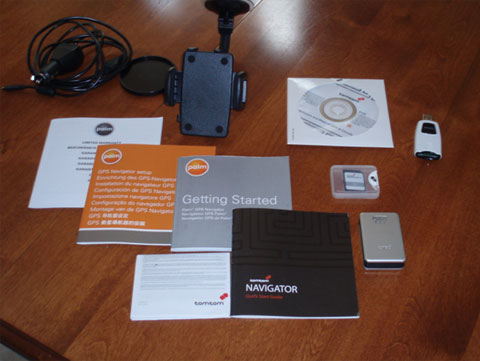 The GPS Navigator package comes with a brand new, very small GPS receiver which has only one button to worry about. There is a manual explaining the GPS and how to pair it to the Treo.
The Receiver connects to a car charger (included) and sits on the dash. The only thing missing was some Velcro or other fastener to keep the GPS receiver from sliding over the dash.
Also in the box is a very well designed suction cup and plastic holder for the Treo. One nice feature is that the power cord has two adapters connected to it - one for the GPS receiver and one for the Treo. Thus, one car jack can power both the Treo and the GPS.
Bundled with the package is brand new version 6 of the TomTom navigator software. This software is both on DVD and on a quick installing SD card and the manuals included were thick and very well written.