Thermaltake Purepower RX600W
4. Conclusion

Personally, I have bought many Thermaltake PSUs in the past and didn't have any problems at all. And usually, Thermaltake products are well priced, especially for entry level users, compared with other manufacturers.
The new Purepower RX series comes with a major improvement in the form of a 14cm rotating fan that works at 1900rpm, producing low noise levels. No-one needs or likes a noisy PSU, so Thermaltake has done well in this area. The modular cabling system is good, with plenty of connectors included, all of which are labeled so that you know exactly where each one goes.
Moving on to the product's performance, we didn't have any problems when we put it under heavy load. Compared with other 600W rated products, we saw slightly greater deviation in voltages, but nothing to worry about since all rails remained well within specs. What's is disappointing is that the product comes with "only" a one year warranty. Other manufacturers offer between 3 to 5 years.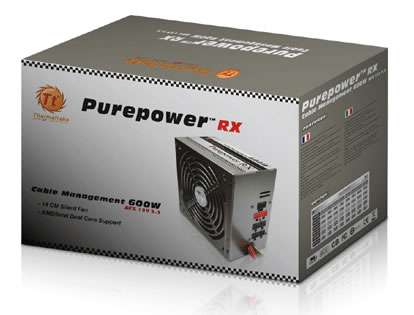 Overall, the product has a very good price for users who want a good and stable PSU for their entry level system. The one year warranty is something you should keep in mind, but this is balanced by the reduced price. We feel that the product is good and earns our "Best Buy Award".
- The Good
600Watt output
14cm fan produces low noise
Good modular cable management
All cables are labeled
Active PFC design
ATX v2.2 certified, Nvidia SLI ready
Plenty of connectors
- The Bad