Thermaltake Purepower RX600W
1. Introduction

Thermaltake, a well known case and PSU manufacturer, recently updated its line of power supplies with the addition of the Purepower RX series. The most noticeable difference is the adoption of a 14cm fan, rotating at 1900rpm, with very low noise levels according to Thermaltake. There are several other interesting features, like modular cables which also caught our attention, and after carefully looking through the specifications, we decided to put the RW600W to the test and see if can meet the demands of gamers with dual graphics card setups.
- Thermaltake Purepower RX600W
Thermaltake Technology launched its new line of Purepower RX Series back in January 2007, with the most noticeable difference being the ultra-silent, 140mm fan that removes thermal build-up within the enclosure efficiently and silently.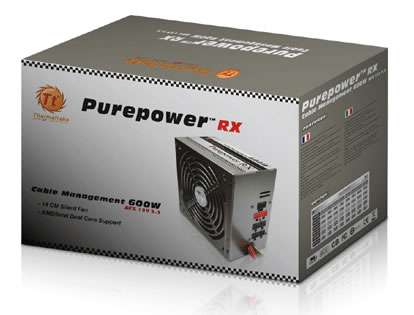 The 140mm fan helps reduce the high noise levels that are typically associated with high-wattage power supplies. Greater wing span of the fan blades, results in greater surface area, allowing the fan to spin much slower while still pushing through large volumes of cool air to dissipate heat.
The Purepower RX Series with its 140mm fan will be available with Cable Management options in 450W, 500W, 550W, 600W as well as with standard cable output in 400W, 450W and 500W.
To support all of today's PC requirements, the Purepower RX Series power supply complies with the latest Intel ATX12V V2.2 specification along with Active P.F.C. (Power Factor Correction) technology to ensure system's stability and reliability. Over Voltage Protection (OVP), Over Current Protection (OCP), Short Circuit Protection (SCP) and No Load Operation Protection are all the standard safety protection features found on each and every one of Thermaltake power supplies.
Purepower RX Series power supply comes standard with 4 SATA connectors to power latest hard drives, maximum of 7 Molex connectors for optical drives or fans and maximum of 2 PCI-E connectors for powering multiple GFX cards setup from ATI or Nvidia. Multiple dedicated 12V rails found on Purepower RX Series power supply not only allows for higher wattage but also guarantees the CPU and GFX card(s) can operate at their optimal setting for ultimate gaming performance.
- Features
Complies with ATX 12V 2.2 version
Compatible with latest dual PCI-Express and Dual Core CPU configurations
Four +12V output circuitry provides stable voltage for system: 12V1/12V2 for processor and two PCI-E, 12V3/12V4 for Motherboard, peripherals, and another PCI-E
Modularized cable management improves internal airflow
Universal AC input 115~230V automatically scans and detects the correct voltage for different country
Quiet and reliable 140mm ball bearing fan
Built-in industrial grade protections: Over current, No load operating, Short-Circuit, and Over voltage
Safety / EMI Approvals: CE, FCC, UL, CUL, TUV, and BSMI certification
- Specifications
P/N

W0144

Maximum Power

600 Watts

Color

Hi-Tech Black

Switches

ATX Logic on-off additional power rocker switch

PFC (Power Factor Correction)

Active PFC

Cooling System

14 cm Fan
SPEED : 1900RPM ±10%
DIMENSION: 140 X 140 X 25 mm
AIR FLOW: 86.5 CFM
BEARING TYPE : Two Ball Bearing
TEMP. AUTO CONTROL


Noise

16dB at 1300 RPM

P. G. Signal

100-500 ms

Over Voltage Protection Recycle AC to Reset

+5V trip point < +7.0V
+3.3V trip point < +4.5V
+12V trip point < +15.6V
DIMENSIONS

Unit Size

15cm(L)x16cm(W)x8.6cm(H)

Net Weight

2.32 kg
INPUT

Input Voltage

115 VAC ~ 230 VAC

Input Frequency Range

47 ~ 63 Hz

Input Current

8A / 4A

Hold-up Time

16ms

Efficiency

Typical 75% (min.)
- Output specifications
OUTPUT

AC INPUT

115V/ 230V 8/4A 47~63Hz

DC OUTPUT

+3.3V

+5V

+12V1

+12V2

+12V3

+12V4

-12V

+5VSB

Max Output Current

30A

28A

18A

18A

18A

18A

0.8A

3A

Min Current

0.5A

2.0A

1.0A

1.0A

1.0A

1.0A

0.0A

0.0A

Peak Current

--

--

--

--

--

--

--

3.5A

Max Combined Wattage

99W

140W

576W

9.6W

15W

The combined power of +5V & +3.3V is 180W max.
Total combined +12V output load cannot exceed 48A.